Governing bodies welcome school sport revamp

By Dan Roan
BBC chief sports correspondent
Last updated on .From the section Sport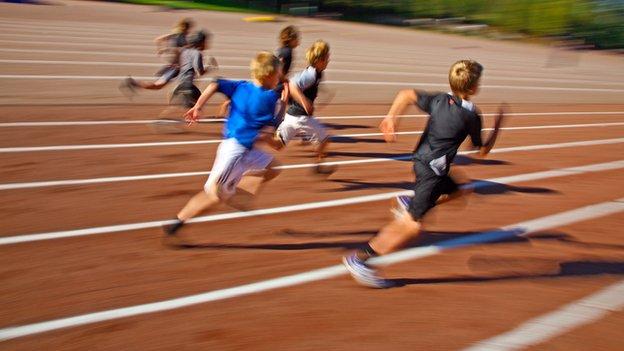 Sports governing bodies have given their approval to the government's new school sports policy, the BBC has learnt.
Prime Minister David Cameron will unveil the long-awaited strategy on Saturday, alongside his Olympic legacy advisor Lord Coe.
Although the precise amount of funding to be committed remains shrouded in secrecy, with Cameron wanting to reveal the exact figure himself, it is thought between £100m and £150m per year of ring-fenced funding will go directly to schools.
Organisations like the Football Association, the England and Wales Cricket Board, the Rugby Football Union, the Lawn Tennis Association and Premier League will be paid to provide coaches to primary schools in order to improve sports provision, with relationships co-ordinated by the network of County Sports Partnerships (CSPs).
The major governing bodies were briefed on the plans on Thursday by Education Secretary Michael Gove, Culture Secretary Maria Miller, and Health Minister Anne Soubry. I'm told the plans were "well-received".
That will come as a huge relief to the government after months of talks in Whitehall over a new school sport strategy.
Concerns have been raised over how exactly schools would be monitored and held to account under the new strategy. Cameron will announce that headteachers will have to 'report back' to the CSPs on how they have spent their new money, while schools will have to post on their websites what curriculum they are delivering and the number of hours of PE provided.
Meanwhile, Ofsted (the office for standards in education) will inspect PE in schools, with guidance to inspectors now being updated.
The government will also seek to address the problem of under-qualified PE teachers in primary schools by piloting new qualifications this summer.
Last month a four-year long Ofsted report concluded there was not enough strenuous, physical activity in many of England's school PE lessons, with teachers tending to lack specialist training, and a minority of schools playing competitive sport at a high level.
The new funding comes after widespread calls for more investment in school sport to help build on the legacy potential of the 2012 London Olympics and Paralympics.
Despite record investment in elite and community sport in the last six months, the Government has also been criticised for making cuts in schools sports and not having yet devised a national strategy for this level of sport.
In 2010, £162m of ring-fenced funding for the national School Sport Partnerships (SSPs) was abolished by Gove provoking an outcry. The network enabled well-equipped 'hub' secondary schools to lend PE teachers to those that needed them, especially primary schools. Following protests, £65m was reinstated, allowing the programme to run partially under a different guise. But that is due to cease before the start of the next academic year in September.
The new policy will not be a reinstatement of the SSP infrastructure, with Gove insisting that money goes directly to schools without it being spent on any additional levels of administration.