Why do smaller countries punch above their weight in sport?

By David Bond
BBC sports editor
Last updated on .From the section Sport186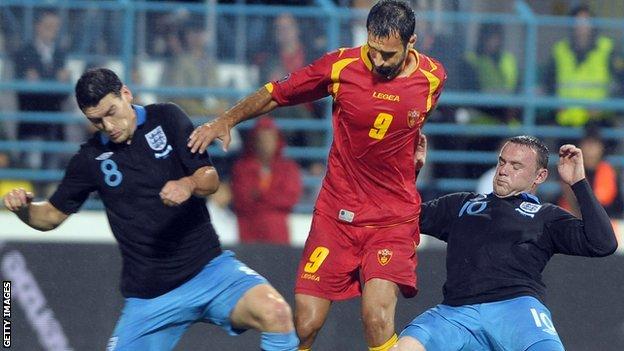 When England last travelled to Montenegro to play the tiny Balkan state in the qualifying campaign for the 2012 European Championships they left with a 2-2 draw and a more humble view of their prospects of winning that tournament.
Not only was the result a reminder of the fragility of the England national team but also of their talismanic striker Wayne Rooney's ability to self-destruct.
His red card for lashing out at Miodrag Dzudovic ruled him out of England's first two matches at Euro 2012 and by the time he returned it was too late for him to find the fitness and form to make a real impact.
That backstory only adds to the existing pressure on England to get a result in Podgorica on Tuesday night - a game in which defeat will make it much harder for Roy Hodgson's team to qualify automatically for next summer's World Cup in Brazil.
Montenegro lead Group H and are now considered a powerful force in European football, despite their size and relatively recent arrival on the international scene.
By any other measure this should be a non-contest. Montenegro's population is 625,000 - just over 1.2% of England's. They have no national league to speak of, their best players play abroad and their national stadium is a fraction of the size of Wembley.
And yet they are ranked 28th in the world by Fifa and in footballing terms punch way above their weight.
How can this be so? Why does sport throw up such anomalies, where countries with relatively small resources and small populations can challenge far bigger and wealthier nation states?
Setting aside the wonderful unpredictability of it all, there is no reason to suppose that football or sport in general should follow the same rules as other international economic and political indicators. Gross domestic product (GDP) has long been a lousy basis for predicting whether a country will do well on the international sporting stage.
Take Jamaica, for example - a tiny island ranked 122 in the world in terms of GDP and with a population estimated at just over two million. And yet, thanks in large part to the phenomenon of Usain Bolt, Jamaica finished third in the athletics medals table at the London 2012 Olympics, behind only the United States and Russia and just ahead of hosts Great Britain.
Explaining why countries like Montenegro and Jamaica can overachieve in this way is so specific to the conditions of the countries and the sports in question that general theorising is a waste of time. Much could be down to chance - a once-in-a-generation group of players or athletes.
But in both cases it is hard to believe there is no direct correlation between the lack of opportunities and life chances in those societies and economies and a desire to achieve through sport. Sport has also been identified by those countries as a means to earn national prestige that other fields of endeavour would never deliver.
Look at the argument the other way round - if wealth, population and a highly developed economy were so important to sporting success then Japan would do much better.
This may be explained by cultural differences - many sporting codes are developed from the British public school system and so are inherently 'westernised'. But Japan and other emerging Asian economies such as Korea have had more than half a century to use their resources to deliver greater sporting success than so far achieved.
In fact, Great Britain may be the best current example of a leading world economy (albeit one of the smaller ones) developing a system that harnesses its economic power to deliver elite sporting success above and beyond its expectations.
Team GB's third place in the London 2012 medal table was a testimony to a highly targeted and sophisticated system of funding through the country's National Lottery which helped to lift the host nation to its best finish since the 1908 Olympics.
If only England's football team could find a way of harnessing its even greater financial muscle for the good of the national team.