Davis Cup 2013: Time for Great Britain to punch their weight

By Jonathan Overend
BBC Radio 5 live
Last updated on .From the section Sport21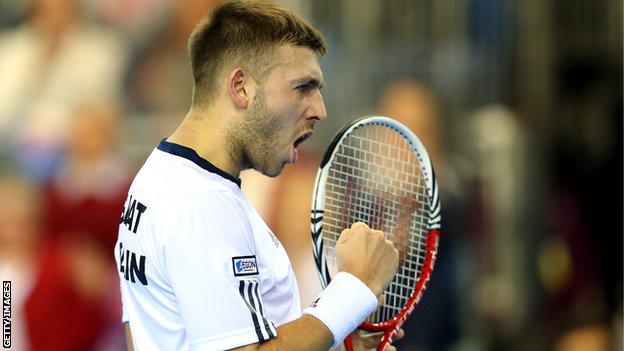 Sometimes we think it's a uniquely British failing but every country has tennis players with enormous talent who fail to make the most of it. We've had a few over the years, no question, and while many end up regretting it, as they manicure a Surrey housewife's backhand for an hourly fee, others appear quite content.
"It's because I don't train hard enough, I don't work hard enough day in and day out," he said with a refreshing bluntness on Friday. "I'm pretty bad at my job.
"There are distractions. I'm working class in my background, I have friends who don't want to hang around tennis all the time, who have other things they want to do.
"Thousands of people have told me the same thing but I haven't done it over a sustained period. And if I'm saying this then I'm the idiot aren't I?"
Such a rhetorical question explains why the new chief executive of the LTA, whoever that may be, has such a tough job in trying to transform British tennis. What use is a world class training complex, educated coaches and sports science back up when this is the self-appraisal - albeit an honest one - of one of the most gifted players in the country?
And that's what Evans undoubtedly is.
One could argue he is the second most naturally talented player of his chosen sport - an Olympic sport, a rich sport, a sport for which parents emigrate and travel the world for, just to give their offspring a chance - in the entire country.
He languishes inexplicably outside the world's top 300 yet, I don't think I'm overstating things to say (and nothing has changed here for several years), he has top-100 potential with the possibility of getting near 50.
After narrowly losing to Dimitry Tursunov in five high-quality sets on the first day of the Coventry tie, he superbly thrashed top-60 rising star Evgeny Donskoy in straight sets to seal the tie.
With victories over two more top 100 players, Lukas Lacko and Martin Klizan in the previous match against Slovakia, Evans boasts results of serious international note.
Then the spotlight is dimmed, the hotel goes from 'swishy' to 'budget' and the crowd disintegrates. Things change.
"It's like being in the top ten," he remarked of his week with the Davis Cup team. "I'm staying in a decent hotel, there's massage, they stretch you out, I don't have to pay for anything..."
Well here's the thing; put the work in, make the sacrifices and, with your talent, you won't have to pay for anything in the future. Your butler will pick it up on behalf of your best friend, the bank manager. Your chauffeur will drop you door to door, you can have a floor to yourself at the best hotels.
Like he says, he's heard all this a thousand times before and I guess we must respect his life choice. He may change, he may not.
But essentially, he needs to make that decision himself. And enough of the wall-banging. He's a Davis Cup hero and we're thankful.
Leon Smith, the impressive captain, made a contentious call in selecting Evans ahead of the hard-working Jamie Baker, the original pick. Some within the LTA fretted over the gamble - another chance for someone who isn't exactly a role model for the younger prospects - but Smith, who seemed nervous as anything on the eve of the tie, made the call simply because he thought it gave Britain the best chance of winning. Such clarity of selection hasn't always been so evident.
Evans sat down with Smith after the tie to coherently plot his schedule through until the end of Wimbledon. He has a plan and wants to play. The meeting left Smith hopeful that this could be a turning point.
The other hero from the weekend was James Ward who, after being in tears on Friday night, edged out dramatically by Donskoy, salvaged the tie with a magnificent five-set comeback victory against Tursunov, the battle of the number ones, in the 4th match.
With more technical weaknesses than his team-mate, Ward has to play more to his own strengths and work harder.
After a terrible year with injuries, Ward is looking fit, strong and upwardly mobile. With no points to defend after Wimbledon and a forehand which looks much improved, the Londoner has the ability to press towards the top 100 later in the year. Go for it.
Top class doubles team Colin Fleming and Jonny Marray initiated the recovery with their emphatic doubles victory on Saturday and credit should also go to Ross Hutchins, who continues to receive treatment to fight cancer, for assisting Smith with excellent scouting and research work.
And then we have Mr Murray. When he rejoins the team, as he promises he will, suddenly the Davis Cup landscape looks more fetching. Far from the backwaters of Lithuania or Luxembourg, Britain could draw Spain away or Switzerland at home in September's play-off.
How brilliant it would be to hire out a massive venue for a September match involving Murray and maybe one of his rivals at the top of the world game. When Tim Henman and Greg Rusedski played Jim Courier and co at the National Indoor Arena in Birmingham, more than a decade ago now, few suspected we would sample that atmosphere again.
It has taken a while, but Britain has impressively rebuilt its Davis Cup reputation to the point where some of the nation's largest arenas are anticipating calls of enquiry ahead of Wednesday's draw.