Boston Marathon: London Marathon to review security
Last updated on .From the section Sport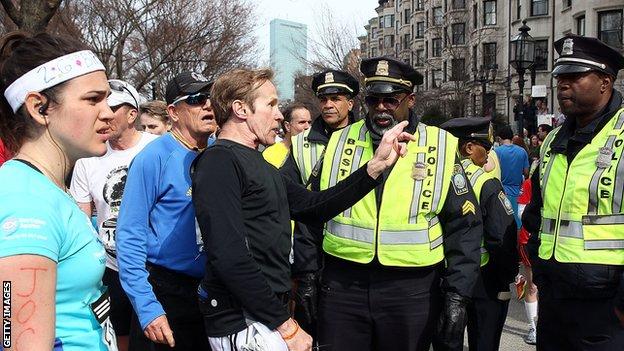 Security for Sunday's London Marathon will be reviewed after two fatal explosions hit the Boston Marathon in the US, British police have said.
At least three people were killed and more than 100 injured by the blasts near the finish of Monday's US event.
The Metropolitan Police said a security plan was in place for London's race but "we will be reviewing this".
London Marathon chief executive Nick Bitel said organisers would "definitely not be cancelling" the event.
The Met Police's Ch Supt Julia Pendry, the commander in charge of policing the London race, said: "A security plan is in place for the London Marathon. We will be reviewing our security arrangements in partnership with London Marathon."
Mr Bitel said in a statement: "We are deeply saddened and shocked by the news from Boston.
"Our immediate thoughts are with the people there and their families. It is a very sad day for athletics and for our friends and colleagues in marathon running.
"Our security plan is developed jointly with the Metropolitan Police and we were in contact with them as soon as we heard the news."
He later told BBC Radio 5 live: "When you have an event of any nature, a marathon, parade, it's only as safe as the city itself. If it's not held in a stadium you can't do a lockdown like you may do in a building."
The London Marathon, which first took place in 1981, was completed by more than 37,000 people last year. The route, which is lined by hundreds of thousands of spectators every year, starts in Blackheath and finishes near Buckingham Palace, passing some of the capital's most recognisable landmarks including Tower Bridge, Canary Wharf and Big Ben.
BBC sports editor David Bond said the events in Boston had "ensured that the question of terrorism will now hang heavy over Sunday's event".
And BBC Sport news correspondent Richard Conway added: "Marathons like Boston are so open. They are big events which take in large tracts of the city, very difficult to police in its entirety. At the Oxford-Cambridge boat race last year we had someone who decided they wanted to protest in the river. It is very difficult in these large events to make sure they are policed throughout the length and breadth of them.
"There will be reviews of security throughout sporting events now, not just in marathons.
"We are in an era of globalised sport, where there are mass events attended by tens, hundreds of thousands of people. Police and organisers will be concerned and worried by these scenes at this sporting event."
According to the Boston Marathon website, 374 of the more than 25,000 registered entrants to one of the US's biggest sporting events were British, but there has not been any information about British casualties at this stage.
UK Athletics confirmed that none of its elite runners had taken part.
A Foreign Office spokesman said: "We are aware of the incident and we are trying to gather information."