Government facing criticism for Baroness Grey Thompson snub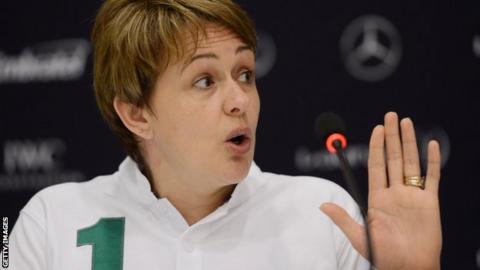 Baroness Grey Thompson diplomatically says she is "disappointed" to have missed out on the role as chair of Sport England.
Privately, she has every right to be furious at the outcome of a recruitment process that has been badly mishandled by the government.
For some weeks now, she has been in the frame for one of the two big sporting vacancies in Whitehall.
An interview panel headed by Sir Keith Mills originally recommended she replace Baroness Campbell as chairman of UK Sport, with Nick Bitel, chief executive of the London Marathon, proposed as the new chair of Sport England.
But Sports Minister Hugh Robertson decided to overrule the panel, instead favouring Rod Carr or Mark Hanson as chair of UK Sport and Grey Thompson as the new head of Sport England.
Following a conversation between Robertson and Grey Thompson on 11 April, the 11-time Paralympic gold medal winner believed she was being lined up for the job.
But government sources insist no firm offer was ever made and the final decision was always subject to approval from Number 10 Downing Street.
It now appears that officials or senior ministers at No 10 decided to reverse Robertson's decision, instead opting for Bitel at Sport England and Carr at UK Sport.
While few would disagree with either appointment - both are highly respected in the sports community and have many years of experience - it has been a messy process.
So what caused the change of heart?
Whitehall insiders now say it was Grey Thompson's lack of experience in chairing big organisations or handling big budgets.
Others believe the crossbench peer's outspoken criticism of the government's plans to reform the welfare system for the disabled led to lobbying from Conservatives who were uncomfortable with her political views.
Whatever the truth, the government is certain to be criticised for snubbing one of British sport's most treasured and inspirational figureheads.
Of the two appointments announced on Monday, Bitel probably has the harder task.
Driving sports participation at the grassroots and particularly among the young is one of the key planks of the government's legacy strategy from the London 2012 Olympics and Paralympics.
And Sport England has been severely criticised in the past for making glacial progress on increasing the number of us who regularly play sport.
With £1bn of public money to spend over the next four years, Bitel will have the resources to make a difference and statistics following London 2012 suggest we may have turned the corner.
But there is still a long way to go.
While the recruitment process might have been botched, Bitel will be under pressure to show that the Olympic feel-good factor can be turned into something more lasting.