Eufemiano Fuentes: Anti-doping group to appeal against ruling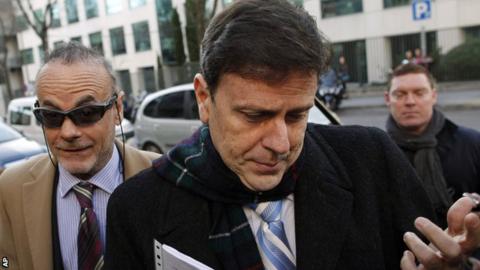 Spain's anti-doping agency (AEA) plans to contest a court's decision that blood bags gathered in the Eufemiano Fuentes case should be destroyed.
The doctor accused of running one of the world's largest sport doping rings received a one-year suspended sentence.
Many want the bags tested to see if they implicate other athletes. The World Anti-Doping Agency (Wada) said the decision was "disappointing".
"We do not consider this the end of the process," said AEA boss Ana Munoz.
"We will now use all resources at our disposal to investigate further," she added on BBC Radio 5 live.
Fuentes was revealed by the Operation Puerto investigation to have been providing blood-doping services to cyclists. When police raided his offices in 2006, they found 211 bags of frozen blood and plasma.
Anti-doping authorities and international sports bodies want to analyse the bags to see whether they implicate athletes in sports other than cycling, but Judge Julia Patricia Santamaria denied them access and ordered that the bags be destroyed.
Fuentes has previously worked with tennis players, runners, footballers and boxers, although he has not said whether he helped them dope.
Wada said the order to destroy all of the blood bags was "unsatisfactory" for the whole anti-doping community.
"Access to this evidence motivated Wada's involvement in this case," read a statement. "This would ensure appropriate sports sanction processes against the cheats who used Dr Fuentes's services. The court did consider that his conduct was a crime against public health.
"Wada is currently fully reviewing the decision and any possible appeal or other action with its Spanish legal advisors and the Spanish National Anti-Doping Organization."
UK Anti-Doping chief executive Andy Parkinson was also unhappy with the verdict.
"It's massively disappointing because everything Wada has been about for the last few years is sharing information and making sure the global fight is fought at global level," he said.
"What we've got here is a bunch of information that may or may not implicate people and we can't get our hands on it. That's really disappointing for clean athletes.
"I think the Spanish authorities are doing everything they can. They're up against a criminal legislative process that doesn't recognise that anti-doping is as much a social issue as it is a sporting one and they can provide a lot of assistance. We've got to hope they can persuade the judge it's not the best course of action."
Dick Pound, the former head of Wada, agreed: "It's been a disappointing experience from start to finish, from the original suppression of the evidence to an ongoing resistance that continues to this day.
"It's embarrassing for Spain. Everybody knows we will be able to uncover quite a bit more doping if the examples are made available."