Jeux des Iles 2013: Jersey sends its smallest ever team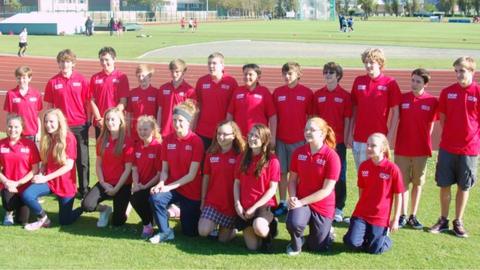 Jersey is sending its smallest ever team to the Jeux des Iles because of a clash of events and GCSE exams.
The Jersey squad of 21 left on Monday bound for Corsica for the annual inter-island multi-sport youth games.
For the first time there are no athletics representatives because the trip coincides with a county championship meeting.
"It's the smallest team that we've taken away," Jersey team leader Hugh Raymond told BBC Radio Jersey.
"There's a lot of pressure, we haven't been able to take athletics this year.
"It's their county championships at the weekend which means we can't get them back in time."
Youngsters from 14 islands from around the world compete in sports including gymnastics, judo and swimming.
Raymond believes some of the Jersey representatives, mainly in their early to mid teens, will go on to compete at future Island Games, some as early as 2015 when the biennial event will be hosted by Jersey.
"It's their first step on the ladder," said Raymond.
"I think you'll find some of the people taking part today will be in the Island Games in 2015.
"I think they'll be there representing us and if we can encourage them to get involved in the events in Corsica, it augurs well for the future."
The Jeux des Iles runs in Corsica from 21 to 25 May.