Island Games 2013: Manx athletes to do 'island proud'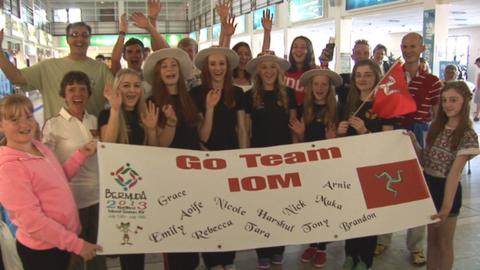 The final group of Manx competitors will depart for Bermuda later ahead of the 15th NatWest Island Games, which open on Saturday.
Around 75 athletes and officials have already arrived on the island in the western Atlantic ahead of the multi-sport Games.
Gymnast Aoife Donnelly, 16, said: "We will be doing everything we can to bring back gold medals."
Two years ago the Isle of Man finished .
Donnelly added: "Opportunities like this don't come around very often and we are all very excited."
Due to the expense of travelling to Bermuda, the island's team is around half the size of the team that won 26 gold medals in the Isle of Wight in 2011.
Emily Dale-Beeton, 14, said: "We've been training really hard and have got a great chance of bringing some medals home. We will be trying our best to make everyone at home proud."
Fellow gymnast, Tara Donnelly, will be competing in her first Games.
She said: "I've never competed so far away from home. I am really looking forward to meeting some many people from other islands.
"It will be a great atmosphere."
More than 2,000 competitors from over 24 islands around the world compete in 16 sports over six days.
The Isle of Man team will compete in 11 sports including cycling, tennis and athletics.
Isle of Man team manager Gary Jakeman said for those going it will be a "trip of a lifetime".
The Bermuda Games will be the first ever to be held outside Europe. The hosts will have the largest team with 300 athletes followed by Guernsey and the Faroe Islands.
The opening ceremony of the event, first held in 1985 on the Isle of Man, will be held on Saturday.
The Island Games in Bermuda runs from 13-19 July.