Island Games 2013: Gymnasts claim first Manx gold
Last updated on .From the section Sport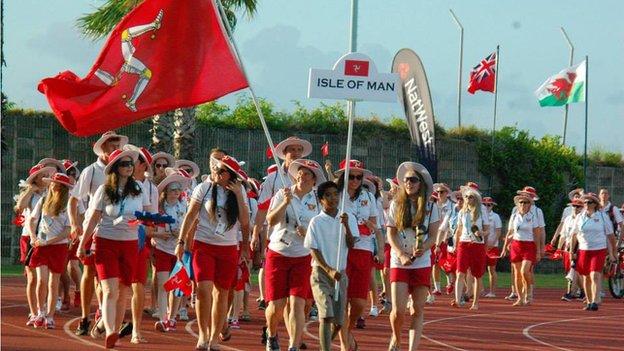 The women's gymnastics team has won the Isle of Man's first gold medal at the NatWest Island Games in Bermuda.
Nicole Burns, Emily Dale-Beeton, Grace Harrison, Rebecca Johnson, Aoife Donnelly and Tara Donnelly claimed gold in the combined floor and vault.
Donnelly, 16, said: "We're really happy. It's been a great day and we performed well as a team."
Their gold was one of five medals won by the 84-strong Manx team on the opening day of competition.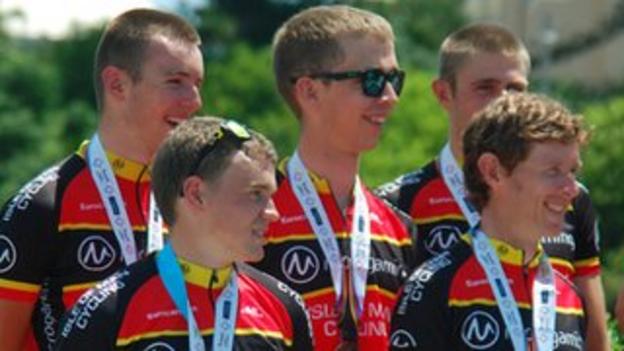 "We had no idea we would win gold and we are delighted. We knew Bermuda would be very strong in front of their home crowd but we just did our best," said 14-year-old Dale-Beeton.
"It was really hot and the gym had no air conditioning but we cheered each other on."
The island's first medal was won by cyclist Andrew Roche, who took the bronze in the men's 100km road race, while they also won silver in the team event
Roche, who is competing in his 10th Games, said: "It was tight all the way and I there were some exceptional performances in our team.
"The heat was incredible and we will learn from that ahead of Thursday's time trial."
There were also bronze medals in the triathlon and ladies' tennis.
The five medals put the Isle of Man were fifth in the medal table, which is headed by hosts Bermuda, the Faroe Islands and Guernsey, who are the three largest teams at the Games.
Due to the expense of travelling to Bermuda, the island's team is around half the size of the team that won 26 gold medals in the Isle of Wight in 2011.
More than 2,000 competitors from over 24 islands around the world compete in 16 sports over six days.
The Isle of Man team will compete in 11 sports including cycling, tennis and athletics.
The Island Games in Bermuda runs from 13-19 July.