Island Games 2013: Eight Manx medals on day two
Last updated on .From the section Sport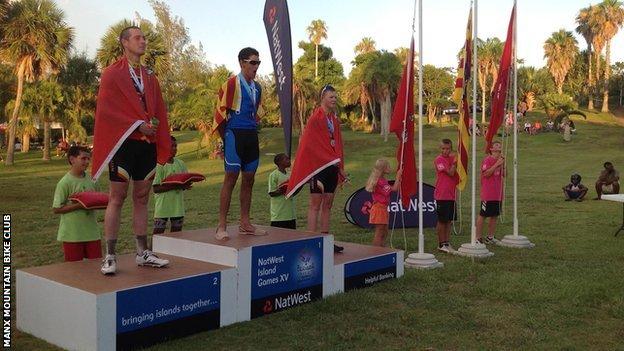 The Isle of Man team won eight medals - including two golds - on day two of competition at the NatWest Island Games in Bermuda.
The gold medals were won by Kevin Loundes in the 10,000m and Grant Halsall in the 50m backstroke.
The Manx team also won two silver medals in the pool, on the track and in the men's mountain bike criterium race.
Two bronze medals were won in mountain biking and badminton.
Hosts Bermuda, who have the largest team at the Games, top the table with the 84-strong Isle of Man team fifth.
Loundes is competing at his fourth Games and said: "It was hard work in that heat. It's been eight years in coming and I am delighted to get it."
Fellow athlete Gail Griffiths won silver in the women's 10,000m.
Swimmer Grant Halsall's gold came in a new Games record of 25.00 seconds.
He said: "It was a good swim and I am happy to get the first out of the way."
Meanwhile, Charlotte Atkinson's silver came in the 100m butterfly and Laura Kinley's in the 50m backstroke.
Atkinson said: "It was fantastic to have so much Manx support out here. It was my first experience of swimming in an outdoor pool and I am happy with the medal."
In the men's individual mountain bike criterium there was a silver for captain Elliot Baxter with 16-year-old Leon Leon Mazzone earning bronze on his Games debut.
The final medal was won by the Manx badminton team after they defeated Bermuda in their semi-final.
More than 2,000 competitors from over 24 islands around the world compete in 16 sports over six days.
The Isle of Man team will compete in 11 sports including cycling, tennis and athletics.
The Island Games in Bermuda runs from 13-19 July.