Island Games 2013: Manx team tops medal table with 19 golds
Last updated on .From the section Sport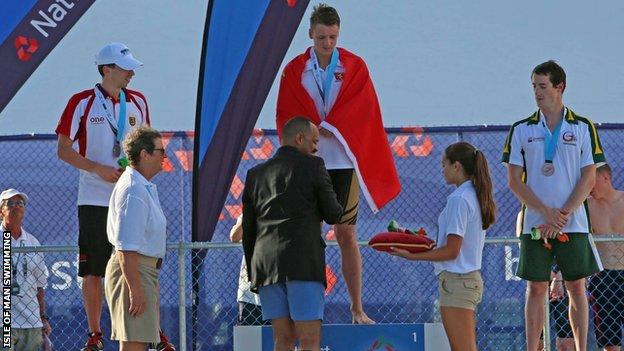 The Isle of Man's Island Games team still tops the medal table with 19 gold medals going into the penultimate day of competition in Bermuda.
Swimmer Grant Halsall won two gold medals on Wednesday setting new Games' records in both the 100m individual medley and 200m backstroke.
Laura Kinley added silver in the 100m breaststroke and Charlotte Atkinson also won silver in the 400m freestyle.
Three further medals were won in mountain biking and on the track.
Halsall said: "I am really happy with my times and it is always an honour to represent the Isle of Man."
Atkinson added: "The atmosphere at the pool is electric".
The Isle of Man's Elliot Baxter bagged a silver in the individual mountain bike cross country and helped the Manx team to bronze.
The final medal on day four came from Oliver Lockley, who won silver in the 5,000m.
Going into the final day of competition in Bermuda the Isle of Man have won 19 gold, 21 silver and 15 bronze.
Jersey and Guernsey are second and third in the table.
Team Manager Gary Jakeman said: "It's has been a remarkable day with some unbelievable performances."
More than 2,000 competitors from more than 24 islands around the world compete in 16 sports over six days.
The Isle of Man team are competing in 11 sports including cycling, tennis and athletics.
The Island Games in Bermuda runs from 13-19 July.