Island Games 2013: Manx team surpasses 2011 medal haul
Last updated on .From the section Sport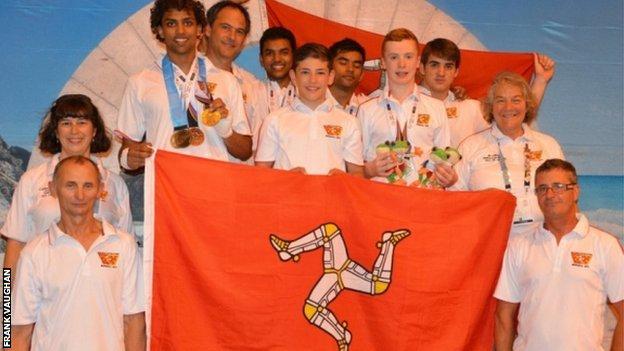 The Isle of Man's Island Games team has surpassed its medal total from the Isle of Wight with a day of competition still to go in Bermuda.
Despite sending only 84 competitors the Manx team have already won 84 medals, including 32 golds, six more than two years ago despite having half the team.
The Manx team added 14 more golds to their tally on Thursday in athletics, gymnastics, swimming and tennis.
They also won 11 silvers and nine bronze medals.
Bermuda are second in the medal table ahead of Jersey and Guernsey.
The gymnastics team again dominated proceedings, with 10 gold medals.
Antony Duchars led the way with three golds, including on the high and parallel bars.
Grace Harrison won gold on the vault and the women's overall title as well as four silver and two bronze medals.
Fresh from winning his Billy Harris won the mixed doubles alongside Laura Feely with the Isle of Man also claiming silver.
Joseph Reid won gold in the 400m whilst Andrea De Bruin claimed silver in the women's discus.
In the swimming pool, Grant Halsall won the men's 100m backstroke and Charlotte Atkinson won the women's 50m backstroke.
Halsall has now won four gold medals in Bermuda.
Guy Davies won silver in the men's 200m backstroke, Atkinson added silver in the women's 200m butterfly and the women's team claimed bronze in the 4x100m relay.
TeammManager Gary Jakeman said: "I am so proud of the way the team has conducted themselves. They have surpassed my expectations and there is still one day to go..
"It is going to be a Games to remember for many reasons."
More than 2,000 competitors from more than 24 islands around the world compete in 16 sports over six days.
The Isle of Man team are competing in 11 sports including cycling, tennis and athletics.
The Island Games in Bermuda runs from 13-19 July.