Island Games: Guernsey 'can improve on 2013 medal haul'
Last updated on .From the section Sport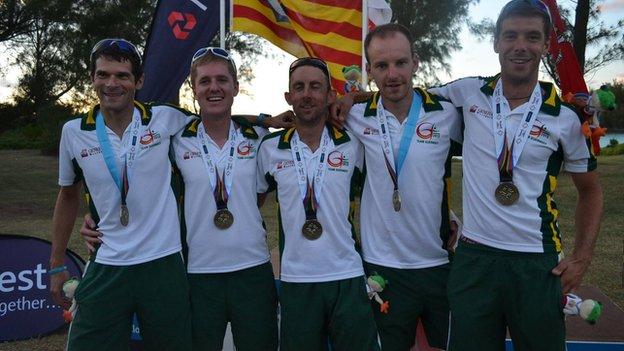 Guernsey Island Games Association chairman Dave Inglis says the team's performance in Bermuda will pave the way for greater success in the future.
"The fact we got lots of bronzes shows how things are looking for the future," Inglis told BBC Radio Guernsey.
"We're delighted with the way Team Guernsey performed overall."
He added: "At least four of the sports went with young development squads so they were developing talent and potential medal winners for 2015 so it was very successful."
Inglis admitted that the desire to outperform rivals Jersey - who finished above Guernsey in third position - would provide plenty of motivation for the team ahead of the 2015 Island Games.
"We have to hand it to them - they've raised the bar on how we should approach 2015 and that will be a great incentive to turn the tables," he said.
"We would certainly look to get one over our Jersey friends over the water."
Inglis, who will step down from his role before the 2015 Games in Jersey, insisted the event still had huge value for those taking part, despite the controversy over the expense of taking a large team to Bermuda.
"We are a stepping stone to the Commonwealth Games and then the ultimate of the Olympics," he said.
"We certainly feel that what is going on at Island Games level is a major step forward for somebody who wishes to achieve something greater."