2012 legacy: 'Tom Daley factor' helps diving build
By Phil Harlow
BBC South West Sport
Last updated on .From the section Diving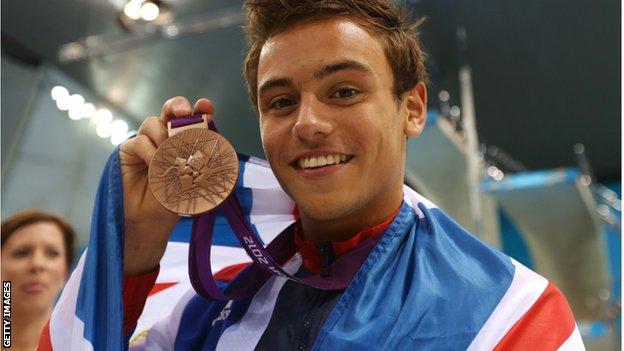 Tom Daley's success and public profile have helped fuel a major increase in participation in diving in the South West, according to his coach.
Olympic bronze medallist Daley trains with Great Britain coach Andy Banks at the Plymouth Life Centre, a £46.5m facility open to the public.
"He's really helped the sport - in the UK and internationally - because he's a global icon," Banks told BBC Sport.
Banks said there had been a "constant flow" of interest since the Olympics.
"If you just look at Twitter, there's a massive fan base for diving now all round the globe - and a lot of them are interested in Tom," he added.
"I have to say it's not just Tom - there's Jack Laugher and Chris Mears, and in the women's diving there's Tonia Couch and Sarah Barrow too."
Banks said the level of participation could be seen by just looking around the Plymouth Life Centre on an average day.
"We deliberately designed the pool to fit more people in," he said.
"At the old pool we were fairly packed out and now we're still packed out but with a lot more people; from young kids who've just learned to swim, to teenagers through to adults.
"Obviously people like to come along to watch the elite divers like Tom - and also Tonia Couch and Sarah Barrow - but they're also keen to come and get involved themselves.
"The numbers coming to Plymouth have doubled, if not more, so the interest is definitely there and we aim to keep people for as long as possible. So it's not just about coming along, having a diving lesson and going away again. It's learning to dive and progressing and potentially getting involved in competition even if not at elite level."
Former Commonwealth Games diver Sally Freeman is the diving lesson manager at Plymouth Life Centre, and she has no doubts that Daley's profile has been central to the sport's success in the South West.
"He's a celebrity and has done so much for the sport," she said.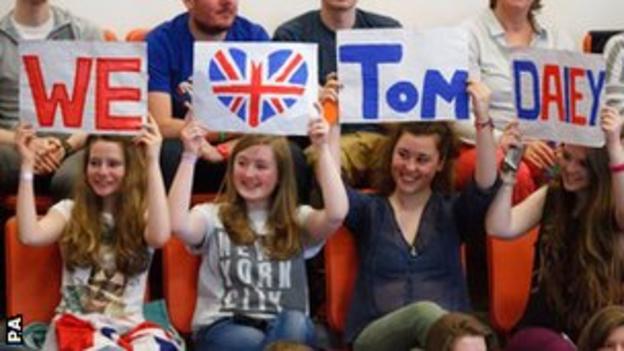 "To give you an example, we had a swimming gala at the centre the other day but it more or less ground to a halt when Tom starting his training, with people just following him around the pool.
"We run a crash course in the morning and after Tom's medal we suddenly needed to start running extra lessons and had to find extra coaches to cope with the demand.
"We're looking at about 550 divers coming here at least once a week, and many are coming significantly more than that.
"One of the difficult things about sport in the region is the access to facilities which makes it even better to have this great facility in Plymouth."
Melanie Sweetman, British Diving's regional manager for the South West and head coach at West Wiltshire Diving Club, told BBC South West Sport: "As a sport, we work very closely together and things tend to congregate in bigger centres - and it's great for the south-west that Plymouth is one of those places."
The ITV series Splash! - which received mixed reviews from critics but attracted a sizeable primetime audience - was identified as a key factor in getting more young people involved in the sport.
Splash! featured Daley as a mentor and saw a number of celebrities, including eventual winner Eddie 'the Eagle' Edwards, compete to catch the eye of Banks and his fellow judges.
"I think people saw the Olympics and the wow factor of someone executing a perfect dive and would think, 'that's great but I could never do that'," said Banks.
"But Splash! showed the very raw beginnings and how people can learn the skills in a relatively short space of time. It made them realise they could actually give it a go."
Freeman cautioned against assumptions that everything was rosy in the sport based on its continued success in Plymouth and the South West.
"In a way it's been easy for us to ride on the back of the Olympics," she said.
"We had the facility built and ready to go before the Games even started so we might be a bit of a special case. If it wasn't here, all that momentum and enthusiasm would have been lost.
"There are diving clubs in the rest of the country - for example, in Oldham - that are either shutting or in real danger of shutting because councils want to close pools."