Winning is everything for fans - or is it?

By Ed Smith
TMS commentator
Last updated on .From the section Sport198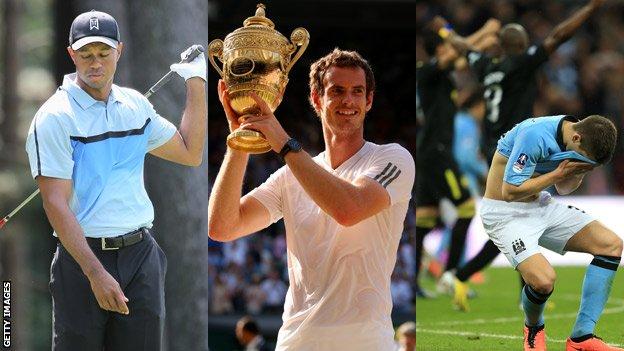 Why is it dangerous for golf if major titles are spread around thinly?
Why is it good news for England fans that Australia played so much better at Old Trafford and Chester-le-Street? Why did Bernie Ecclestone consider using fake rain in Formula 1 races? Why is the scarcity of goals great for football fans and terrible for bookmakers?
The answer is that sports fans crave an optimal degree of uncertainty. Too little uncertainty and sport becomes boring. Too much uncertainty and the story becomes too complex to follow. There is a sweet spot, a perfect balance between familiarity and drama.
It is a truism that golf is suffering from a post-Tiger Woods era trauma. When Woods was in his pomp, winning 14 majors between 1997 and 2008, golf always had a narrative. Woods was unstoppable, Woods was injured, Woods had recovered, Woods was an iron man under pressure.
His personality, for good or ill, held together the sport's differing threads. Woods was never bigger than golf. But Woods acted as the sport's leading man, and just as with a great film, you always knew the star even if others sometimes had the best lines.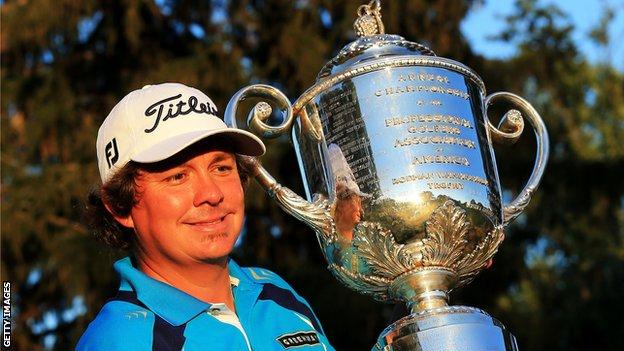 This era could not be more different. The last 21 majors have been shared by 19 different players - Jason Dufner's win at the US PGA confirmed the trend of first-time major winners. It is hard, for the occasional golf fan, to keep up with such a vast, rotating cast of potential heroes.
It also reaffirms the remarkable nature of Woods's supremacy in the 2000s. It is perhaps the hardest of all sports to dominate in that way: the best player in the world always has to compete with someone who is merely good, but whose putts drop throughout the week.
The combination of Woods's supremacy and golf's inherent unpredictability was a perfect pairing. Now, in contrast, we have uncertainty squared - and we crave an anchor of familiarity.
Two-horse races such as the Ashes are inevitably more prone to spells of over-predictable one-sidedness. On Monday, England completed their fourth Ashes series win in the last five attempts. But this series, fortunately, has turned out to be much more dramatic than looked likely after Australia's dismal performance at Lord's in the second Test.
Counter-intuitively, many England fans - even those who suffered the bruising Australian dominance of the 1990s and 2000s - craved a closer contest. With the prospect of another five-match Ashes series this winter, England supporters experienced two conflicting emotions. They wanted to win, obviously, but they also hoped victory would not to be assured without a thrilling story to follow.
That is not a wimpy English lack of ruthlessness. When I played Grade cricket in Australia in the late 1990s and early 2000s, I was struck by how many serious Australian fans did not, in fact, enjoy the predictability of Australian Ashes dominance.
Players are inevitably conditioned to seek businesslike efficiency, but supporters usually hope the story veers off track. Having watched Australia's performances in the third and fourth Tests, the Ashes series down under is looking a much more exciting prospect for England fans than it was during the Lord's massacre.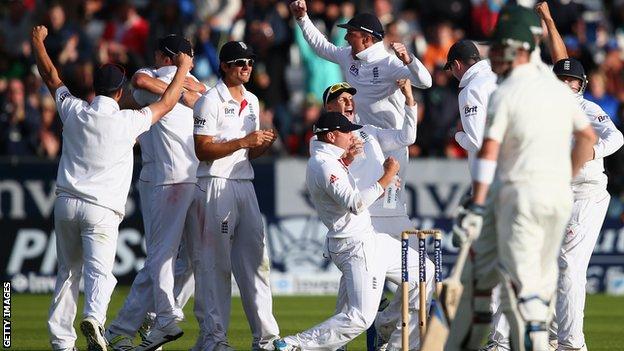 Seeking the right degree of uncertainty has led sports to consider artificially manipulating conditions to increase the dramatic uncertainty. Formula 1, for example, is susceptible to periods of technical superiority, when one team achieves insurmountable dominance over the rest of the field. In 2009, Jenson Button (his Brawn GP having been fitted with a special diffuser) won six of the first seven races.
No wonder Formula 1 boss Bernie Ecclestone speculated two years ago that something must be done to stop races becoming too predictable. His solution was simple: it ought to rain more. "Wet races are always the most exciting," as Ecclestone put it. Even Formula 1, though, is unable to arrange a contract with the weather. So Ecclestone suggested that rain should be artificially supplied by a track-side sprinkler system.
The fact it was even considered demonstrates how even the most technical sports crave narrative uncertainty.
What about the Premier League? How can we account for the worldwide popularity of a league which has only had four different winners - Manchester United, Arsenal, Chelsea and Manchester City - in the past 18 seasons?
The Premier League's entrenched top four, fortunately, is balanced by another quirk.
Even if the cream always rises to the top over the course of the whole season, football is the most unpredictable sport on any given Saturday. We know this because bookies predict the winners of football matches less successfully than in any other sport.
Why? The huge size of football's currency unit - the goal - makes luck a far greater force in football than in other sports. A net cord in tennis can randomly determine a single tennis point. But it would be staggeringly unlikely that one player could get enough lucky net cords in one match to change the result.
In football, by contrast, one lucky score is all you need to win the match. So even if they've got no hope of winning the league, fans of weaker teams bring legitimate hope to every match.
The sport is structurally predisposed to supply a healthy number of underdog surprises, a forgotten factor in football's mass appeal.
No one designed football to hit that sweet spot. It was just a happy accident.