British Transplant Games offer true inspiration

By Dan Roan
BBC chief sports correspondent
Last updated on .From the section Sport
With the long-awaited return of the Premier League and the climax to the World Athletics Championships, this is already set to be a special sporting weekend.
But there is another event starting today that you probably will not have heard of but which might just be among the most inspirational things you will ever see.
The 670 people competing in this year's British Transplant Games in Sheffield may not enjoy the same levels of attention as those in Moscow, or at football grounds up and down the country, but their stories of human endeavour are arguably unmatched anywhere in sport.
Anyone who has undergone a major organ transplant qualifies to take part in this, the biggest ever British Transplant Games. Most of the competitors in action were dying before life-saving transplants of hearts, lungs, kidneys, livers or bone marrow.
"Go to Sheffield and you'll be watching people who should actually be dead," says 34-year-old Belfast lawyer Orla Smyth.
A few years ago, kidney disease left Smyth on dialysis and fearing she would never run again. But a kidney transplant gave her hope and today she is the Transplant Games world record holder for 400m, 800m and 1500m.
"Just watching these people compete gives you a whole new perspective on life. I cannot describe the positive atmosphere there, it cannot be replicated."
Smyth has been able to write to the family of the deceased person whose kidneys she received and tell them just how much that gift of life has enabled her to achieve.
Sometimes these mourning families attend the Games to see for themselves what their loved one helped happen.
"The British Transplant Games are special and very emotional because it's for people who have genuinely been given a second chance," says Nick Condon, a 37-year-old chartered accountant from Northampton.
Five years ago, Condon was given just six months to live after suffering all his life with cystic fibrosis.
It is a cruel, degenerative disease of the lungs that left him constantly gasping for breath, reliant on hours of treatment every day, coughing up phlegm and barely able to walk a few yards.
A double lung transplant saved his life and today Condon can run the 200m in 27 seconds, a time that would put most people his age to shame.
Another member of the British team that has just topped the medals table at the World Transplant Games in South Africa, Condon is favourite to win the British 200m title at Don Valley on Sunday, one of the last major athletics events to be held at the stadium before its closure.
"The only way to survive the trauma of such a severe operation and to train my body to accept my new lungs was to become as fit and active as possible," says Condon.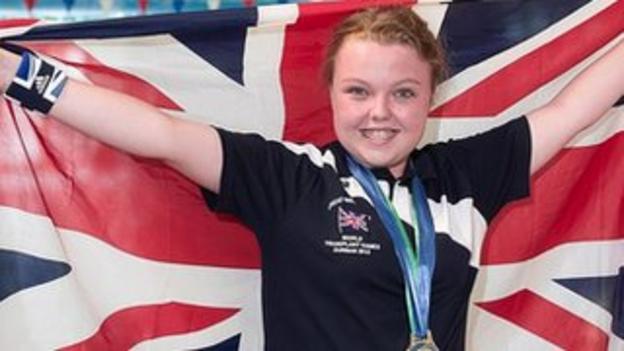 "Exercise and sport become an integral part of your life after a major organ transplant, so it's no surprise so many of us compete. They allow us to do the kind of thing that would have been simply impossible before - to travel, to make new friendships, to live life to the full.
"But the Games are also about paying tribute to our donors and their families as well as the hospitals that helped saved our lives."
Olivia Ball-Hymns, another victorious member of the British team in South Africa to compete this weekend, had a life-saving liver transplant when she was nine. The 14-year-old won the world 50m freestyle and breaststroke events and silver in the backstroke.
"Attending the World Transplant Games was an amazing experience," "The only time I'd ever been abroad before was to Belfast, so going all the way to South Africa was incredible.
"I haven't had much time to rest as I'm going straight to the British Games but hopefully I can win medals there too."
Transplant sport also exists to raise awareness of the urgent need for organ donation.
"Three people die every single day in the UK waiting for a transplant," claims Lynne Holt, a trustee of Transplant Sport, the organisation behind the Games and the manager of the GB team that won an unprecedented 114 gold medals in Durban.
"Ten thousand people are on the transplant list waiting, but only 3,500 become recipients each year. That's a large shortfall.
"Many die while waiting for a transplant, and the Games help us to highlight the importance of telling your family and next of kin if you want to be an organ donor."
Last year, four out of 10 bereaved families in the UK refused to consent to donation, one of the highest rates in Europe. Just 29% of the UK population are registered as organ donors.
But with no central government funding, Holt is acutely aware of the challenge of staging events like the British Transplant Games, not to mention competing in them.
"Our athletes have just represented Great Britain with distinction and yet they get no funding, unlike Paralympians," she says.
"Many athletes simply can't afford to come and compete.
"Our athletes are walking, running miracles. They've fought back from horrific conditions and most remain on life-saving drugs. But they aren't classified as disabled.
"That's a problem because they don't get the exposure or support that Paralympians receive for instance."
To participate in Paralympic sport, athletes need to exhibit one of 10 eligible impairments. Organ transplants do not classify as one of these impairments as they are seen as non-permanent and after the transplant the athlete is deemed back to health.
"If we got just a bit of funding it would make such a difference," says Matt Lynch, another GB medallist in Durban.
Renal failure meant the 21-year-old had to have a kidney transplant when he was a teenager. This weekend, he will be competing in the tennis and table tennis competitions.
"My flight to South Africa cost over £1,000 and it's difficult to afford to compete," he says.
"We have to raise sponsorship ourselves. Many of our rivals from other countries receive financial assistance. But when you see people who would have died without a transplant running 100m in 11 seconds, then the true value of these events is clear."
At a time when sport's ability to inspire is valued as highly as ever, the Transplant Games shine brighter than most.