Zac Purchase: Olympic medallist says dopers are 'abhorrent'
Last updated on .From the section Sport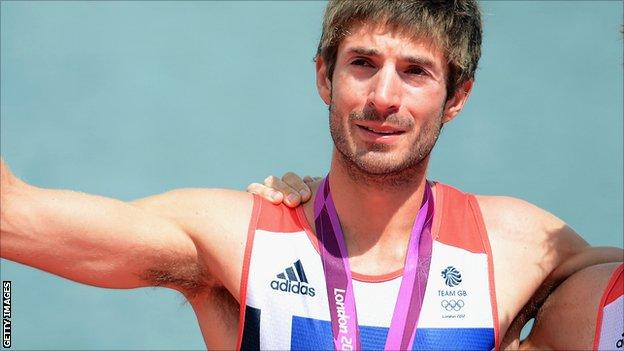 The British Athletes Commission's new anti-doping advisor Zac Purchase has described drugs cheats as "abhorrent".
Rower Purchase, who won silver at the London 2012 Olympics, also says he believes there are countries that do not take the issue of doping seriously.
There have been several high-profile cases recently with sprinters Tyson Gay and Asafa Powell both testing positive.
"I can't sympathise at all with anyone who would even contemplate it," Purchase told BBC Radio Berkshire.
The BAC is an independent association, set up in 2004, for competitors in over 40 different sports, including many that feature in Olympics, Paralympics and Commonwealth Games.
Purchase, whose career highlights include an Olympics gold medal from Beijing in 2008 and silver from last summer's London Games, took on his role with them earlier this week.
Last month, the International Association of Athletics Federations (IAAF) announced athletes found guilty of doping will be given a four-year ban from 2015,
Along with the Gay and Powell revelations, the sport has seen 31 Turkish competitors, including Olympic medallist Esref Apak, given two-year suspensions for doping.
Jamaican sprinter Sherone Simpson and discus thrower Allison Randall also failed drug tests in July and Trinidad & Tobago's Kelly-Ann Baptiste did so earlier this month.
"To me it is abhorrent and completely distasteful in the whole sporting environment, especially at the Olympic level which is meant to be about competing against like-minded people on an even keel," added Purchase.
"There are some countries that spend a lot more money and time on their anti-doping campaign.
"We are lucky in Great Britain that we have a very strong and strict regime and that promotes a very good atmosphere among the athletes and helps promote that we care about making sure we are clean athletes.
"Whether that is the same across the world I don't know. There are some countries who don't have the same enthusiasm for it."