Ashes 2013: Ruthless England sparked by Ian Bell's dominance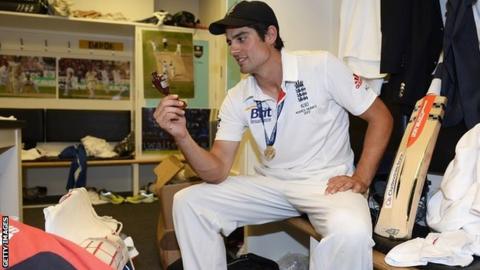 And so what began with such thrill and commotion in the Trent Bridge sunshine six weeks ago ended with a farcical finale in The Oval's autumnal evening light.
That rollercoaster first Test apart, this has been an Ashes series lit up by irregular explosions of great drama rather than relentless theatre: Friday afternoon at Lord's, the final lunchtime in Manchester, Sunday evenings in Durham and south London. In that, it reflects the intrinsic nature of much Test cricket. The delights, when they come, are all the more dramatic for the necessary grind on either side.
In Ian Bell we have seen an England batsman who dominated with delicate touch throughout. Australia paceman Ryan Harris threatened in every one of the four Tests he played after missing the first.
The other outstanding performers, much like the overall narrative, have sparkled more sporadically - England's James Anderson with 10 wickets in Nottingham and then just seven more across the next six innings; Australia captain Michael Clarke, that brilliant 187 at Old Trafford but just 194 more runs at an average of 21 in his other nine knocks; Stuart Broad, 11 match-winning wickets for the hosts in the fourth Test after taking just nine in the previous 11 Ashes innings at 60 apiece.
While it ends with a scoreline that speaks of dominance, it has also frequently felt much tighter than a 3-0 should. Only 14 runs separated the two sides in Nottingham. The weather aided England when they lost both toss and control at Old Trafford and The Oval.
England emerged triumphant not because they turned out to be the superior team at all times in all departments, but because they were capable, in those decisive sessions, of reducing Australia to rapid rubble.
There is a great skill in turning the taking of one or two wickets into a full-scale rout, as Alastair Cook's men did in the critical passages of play. It takes a masterful bowler in relentless mood, a communal belief borne of previous triumphs, a ruthlessness when chances are offered.
Australia, when they worked their own openings, could only graze chins rather than deliver knockout punches.
Four times they took first-innings leads. Not once did they allow the opposition to pass 400. Despite that, they came within a laughable bad-light ruling of losing four in five.
Even in each of England's wins, they had a crowbar in the safe: at Trent Bridge, with the hosts four down in their second innings and just 66 runs ahead; on the first morning at Lord's, with England teetering at 23-3; at Durham, when England lost their third second-innings wicket with the lead at just 17.
On each occasion it was Bell who first rode the punches and then inexorably forced the tourists onto the ropes. No more can he be derided for that perceived inability to score big runs under immense pressure.
He made 109 in six-and-a-half intent hours on that low, slow Trent Bridge track, the same score in five hours at Lord's and 113 off 210 endlessly patient balls to set up the win at Chester-le-Street.
In 16 innings at home to Australia before this series he averaged 21. He ended the summer with 562 at 62, equalling the English record for a five-match home Ashes set by Denis Compton in 1948. Transformations have seldom been so spectacular or significant.
The tourists had a pace attack that could sometimes match England's. Where they were crucially outgunned was when the ball turned, as if often did on pitches made to exploit that predicted discrepancy.
As England opened up a decisive 2-0 lead in the first two Tests, off-spinner Graeme Swann took 13 scalps. His opposite number, teenage debutant Ashton Agar, managed just two despite his heroics with bat in hand at the start of it all. By the time Nathan Lyon had been recalled to narrow the margins, the damage had been done.
Swann would finish with 26 wickets, the most for England in an Ashes series since Ian Botham's 31 in 1985. Only Jim Laker among English spinners has taken more in an Ashes summer.
Bell apart, England's top order did not accumulate as they had in the preceding Ashes series, frequently shackled by good plans well set. Neither did an Australian line-up that only began to settle once the series was already lost.
It led some to bemoan the quality of the action on offer. This has neither the exceptional combatants of 2005 nor the close-matched drama of 2009, went the argument. Will this series therefore be remembered as fondly as the last two English Ashes wins on home soil?
To which context is everything. The circumstances that surrounded the series of 2005, as well as the way it was won, can never again be matched. England were not coming into these Ashes off 16 years of humiliating defeat; Australia did not arrive loaded with all-time greats. To compare any subsequent series to those extraordinary two months is to invite disappointment.
Even in 2009, England began as subordinates, whitewashed in the preceding series, dismissed for 51 by the West Indies a few months earlier, the leadership team of captain Andrew Strauss and coach Andy Flower new to the job and still trying to build fresh foundations from the wreckage of the Kevin Pietersen-Peter Moores regime.
Both then and four years earlier, overall victory was not assured until the final few hours of the last Test. In the comfort of this summer's margins - the urn secured with two matches still to come, the series won after one more - such cliffhanging ecstasies were lost.
It should not matter. England have now won three Ashes series in succession. Australia have failed to win a single Test in one for the first time in 36 years. In Cook's first 12 months of captaincy, he has won three series in four and not lost a Test in 12.
Not since David Gower's defining summer in 1985 have England won three Tests in a home Ashes series; after years of Antipodean ascendency, they have now levelled the overall Ashes balance at 31 series wins apiece.
These are reasons for praise and celebration. Whether such happy numbers will lead to similarly sunny times ahead will take longer to divine.
That Oval triumph in September 2005 will remain unmatched for its national impact and elation, yet it was a peak for that team that would not be scaled again. The XI that had taken the series lead at Trent Bridge would never play together again; a few months later, the survivors would lose in Pakistan and begin the slow slide that ended with capitulation in their next Ashes engagement.
August 2009 went the other way, signalling the birth of a new team under Flower and Strauss, the Oval marking Jonathan Trott's debut and the cricketing coming of age of Swann and Stuart Broad.
Over the next two years they would go unbeaten in series home and away, secure an unprecedented three innings victories in the Ashes down under, whitewash India at home and stand, albeit briefly, on top of the world.
This vintage of 2013 is somewhere in between, the hard core of 2009 yet to be fully buttressed by new additions and with cracks in the facade rather than any fatal fissures.
They were better than Australia this summer when it mattered most, and they deserved to come out on top. The winter ahead may prove both tighter and more testing.