Serena Williams and Rafael Nadal threaten Grand Slam record books

By Russell Fuller
BBC tennis correspondent
Last updated on .From the section Sport204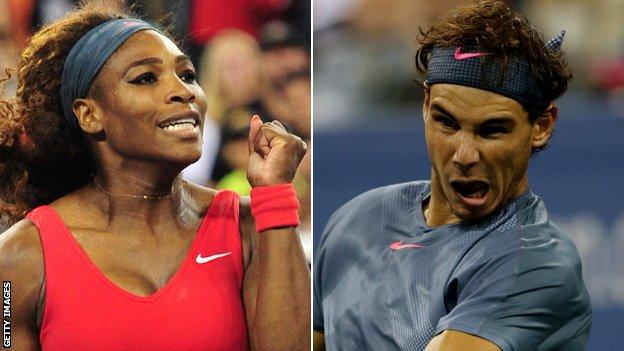 Not only are this year's two US Open champions producing a season which will stand comparison with the very best, but they may also both end their careers with more Grand Slam titles than any other player.
Serena Williams now has 17 and, having won four of those in her thirties, will surely skip past the 18 won by Martina Navratilova and Chris Evert before throwing herself into the challenge of catching Steffi Graf's Open era record of 22.
Williams turns 32 at the end of the month, but there is no sign that her form or motivation is waning.
Rafael Nadal has 13 to his name, leaving him one behind Pete Sampras and four behind Roger Federer, who is five years his senior.
Even if it is unrealistic to expect him to enjoy five healthy years, Nadal's ability to bounce back from a chronic knee condition and to master both hard courts and clay suggest Federer's record may not last as long as he would wish.
But that is a conversation for another day, as it is the records they are compiling this year that deserve greater attention.
Williams's defeat by Sloane Stephens in the quarter-finals of the Australian Open, and to Sabine Lisicki in the fourth round of Wimbledon, slightly undermine her record, but she has still won nine titles, including two Grand Slams, and lost only four times all year.
And all this at an age when most elite players are living off their winnings or discovering that opponents do not find them quite so intimidating any more.
After spending virtually her entire life under the guidance of her father Richard, Williams started working with French coach Patrick Mouratoglou after a shock first-round defeat at last year's French Open. His words will not make comfortable reading for the top women players in the world.
"She has this rage inside that she can put on the court," he told me. "It's so tough for her competitors as she also has this ability to find a solution on court even though she is in trouble. She finds something deep inside to change the momentum. Sometimes when she clicks, she is just able to walk on the opponent - whoever is on the other side of the court."
Williams has certainly become more consistent since starting work with Mouratoglou. She has won 14 of the 19 tournaments she has contested since last June, and the trophy cabinet constructed - at Williams's insistence - in his Parisian academy may soon be too small for the task.
She is also winning a frightening number of sets 6-0, and when matches threaten to spiral out of control - like in the US Open final, when Victoria Azarenka fought back from a double break down in the second set to force a decider - Williams seems to have the ability to calm herself down and regain the initiative, often by walking at a funereal pace from one side of the court to the other.
As for Nadal, this year may well come to be considered as the most impressive year in the history of men's tennis. Seven months into his comeback after a seven-month lay-off to rest a partially torn patella tendon in his left knee, he has won 10 titles, including two Grand Slams, and been beaten only three times.
He has won 60 matches and, although John McEnroe's Open era record of 82 wins and three defeats in 1984 will almost certainly remain just out of reach, Nadal is performing in the aftermath of an injury which he thought might end his career.
McEnroe himself is hugely impressed. "His will to win - I have never seen anything like it," he told BBC Sport. "I think if he stays healthy he can easily win four or five more [Grand Slams] - no doubt about it.
"Let's hope that he stays healthy because it would be great for our sport, and somebody's going to have to step up."
Beijing, Shanghai, Paris and London's World Tour Finals remain on Nadal's schedule, and he could yet win another Davis Cup with Spain. But even if fatigue catches up with him, he will almost certainly end the year as world number one, and nothing should diminish his extraordinary achievement.
Titles have been won in Sao Paulo, Acapulco, Indian Wells, Barcelona, Madrid, Rome, Roland Garros, Montreal, Cincinnati and now New York. Only three men have beaten him, so perhaps my next column should pay tribute to Novak Djokovic, Steve Darcis and Horacio Zeballos...