Football transfers - October 2013
Last updated on .From the section Football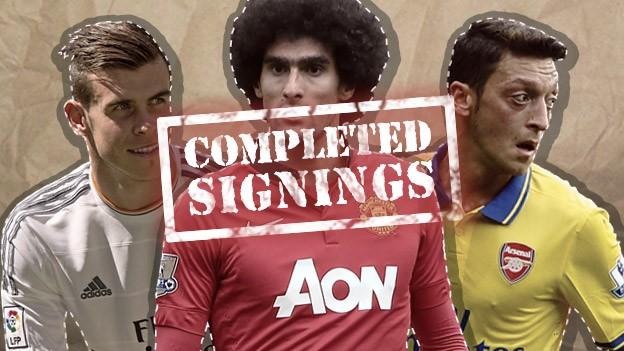 The transfer window closed on Monday, 2 September but clubs can still sign free agents (so long as they left their previous club before the deadline).
The loan window for Football League clubs opened on Tuesday, 10 September.
To read the day's transfer rumours, visit our gossip column.
For all the latest breaking transfer news, follow Sportsday Live each day.
31 OCTOBER
James Alabi [Stoke - Mansfield]
[Preston - Bristol Rovers] Loan
[West Brom - Bournemouth] Loan
[Unattached - Birmingham]
Kane Ferdinand [Peterborough - Northampton] Loan
[Nottingham Forest - Bristol City] Loan
Karleigh Osborne [Millwall - Bristol City]
Adedeji Oshilaja [Cardiff - Newport] Loan
[Sunderland - Nottingham Forest] Loan
30 OCTOBER
Marc Albrighton [Aston Villa - Wigan] Loan
Paul Gallagher [Leicester - Preston] Loan
29 OCTOBER
Aidy White [Leeds - Sheffield United] Loan
28 OCTOBER
George Evans [Manchester City - Crewe] Loan
26 OCTOBER
Seyi Olofinjana [Unattached - Sheffield Wednesday]
Marius Zaliukas [Unattached - Leeds]
25 OCTOBER
Kyle Bennett [Doncaster - Crawley] Loan
Yun Suk-Young [QPR - Doncaster] Loan
Nicky Wroe [Preston - Shrewsbury] Loan
24 OCTOBER
Dexter Blackstock [Nottingham Forest - Leeds] Loan
Cian Bolger [Bolton - Colchester] Loan
[Unattached - St Mirren]
Arran Lee-Barrett [Unattached - Bolton]
[Norwich - Coventry] Loan
Jordan Spence [West Ham - MK Dons] Loan
Sebastian Svard [Unattached - Wycombe]
23 OCTOBER
Daniel Ayala [Norwich - Middlesbrough] Loan
Matt Macey [Bristol Rovers - Arsenal] Compensation
[Unattached - QPR]
22 OCTOBER
Prince Buaben [Unattached - Carlisle]
[Unattached - Tranmere]
Elliott Lee [West Ham - Colchester] Loan
Paul McCallum [West Ham - Torquay] Loan
Damien Mozika [Unattached - Torquay]
Andre Wisdom [Liverpool - Derby] Loan
21 OCTOBER
George Bowerman [Unattached - Accrington]
[QPR - Leyton Orient] Loan
18 OCTOBER
Jack Blake [Nottingham Forest - Mansfield] Loan
Pascal Chimbonda [Unattached - Carlisle]
Simon Dawkins [Tottenham - Derby] Loan
Matt Gill [Bristol Rovers - Exeter] Loan
Kadeem Harris [Cardiff City - Brentford] loan
Luke Norris [Brentford - Northampton] Loan
17 OCTOBER
Fraser Fyvie [Wigan - Yeovil] Loan
Alex Henshall [Manchester City - Bristol Rovers] Loan
Will Packwood [Birmingham - Bristol Rovers] Loan
Dean Parrett [Unattached - Stevenage]
16 OCTOBER
[Swansea - Brighton] Loan
Shaun Jeffers [Unattached - Peterborough]
15 OCTOBER
Danny Hylton [Rotherham - Bury] Loan
Damian Martinez [Arsenal - Sheffield Wednesday] Loan
Charlie Taylor [Leeds - Fleetwood] Loan
14 OCTOBER
Carlton Cole [Unattached - West Ham] Free
12 OCTOBER
[Wigan - Southend] Loan
11 OCTOBER
Liam McAlinden [Wolves - Shrewsbury] Loan
Jak McCourt [Leicester - Torquay] Loan
[Aston Villa - Tranmere] Loan
10 OCTOBER
Cristian Lopez [Huddersfield - Shrewsbury] Loan
5 OCTOBER
[Brentford - Northampton] Loan
[Doncaster - Scunthorpe] Loan
4 OCTOBER
Bruno Andrade [QPR - Stevenage] Loan
[Brighton - Bristol City] Loan
Nathan Eccleston [Blackpool - Carlisle] Loan
Dan Gosling [Newcastle - Blackpool] Loan
[Brentford - Plymouth] Loan
Simon Lappin [Cardiff - Sheffield United] Loan
Gavin Mahon [Unattached - Portsmouth]
Luke O'Neill [Burnley - York] Loan
[Sheffield United - Chesterfield] Loan
Francois Zoko [Unattached - Stevenage]
3 OCTOBER
[Bury - Portsmouth] Loan
James Caton [Blackpool - Accrington] Loan
Chris Dickson [Unattached - Dagenham]
Stephen Henderson [West Ham - Bournemouth] Loan
Jim McNulty [Barnsley - Tranmere] Loan
Therry Racon [Unattached - Portsmouth]
1 OCTOBER
Jack Collison [West Ham - Bournemouth] Loan
James Henry [Millwall - Wolves] Loan
Jordan Mustoe [Wigan - Bury] Loan
[Blackburn - Torquay] Loan