BBC Sport new live service - FAQs
From the section Sport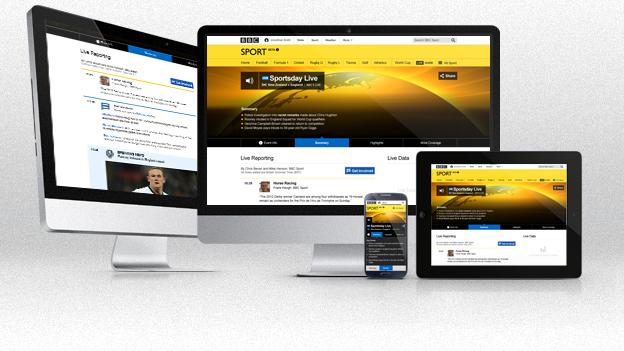 What is the BBC Sport live page?
BBC Sport is changing the way it covers live events online. As part of this change, we have launched a version of our new live page.
The new approach is part of a BBC-wide plan to improve coverage of Britain's biggest social and cultural events.
In time for the 2014 Fifa World Cup, we have added a number of new features to these live pages.
What are the features currently available?
Live text commentary

Responsive design - the new live page shows the same content across all devices. The 2014 World Cup is the first edition where the data modules within the live page will be visible on mobile as well as larger screens.

Improved load time - The page is much faster at updating content, in some cases halving the time it takes to get the content to the page. There is also no need to refresh your screen.

Live High Definition streams for the BBC Coverage of World Cup matches where audience members' device and network capability allow.

The ability to watch BBC coverage of events, including World Cup matches on demand

Rewind the video - want to see something from earlier in the video, simply scroll back to that point. This is available on desktop, laptop, Android devices and iPad.

Key moments. Users can also jump straight to editorially selected points in the time line, for example a goal or the start of a set in tennis.

Data modules. World Cup scores and tables will appear in the page, similarly for the Commonwealth Games there will be data in the page.

Vote modules. Votes will be available for World Cup matches, with users able to vote either in page or through social media.
What events are being covered?
The new live page will be used for many of this summer's biggest sporting events, including the World Cup, Commonwealth Games and Wimbledon. We are also
General Sport Comments & FAQs
General sport comments and frequently asked questions can be found here. From this page you can also find details of how to contact us with regard to the new live offering.