From battlefield to sports field: The soldiers who are fighting fit

By Eleanor Oldroyd
BBC presenter
Last updated on .From the section Sport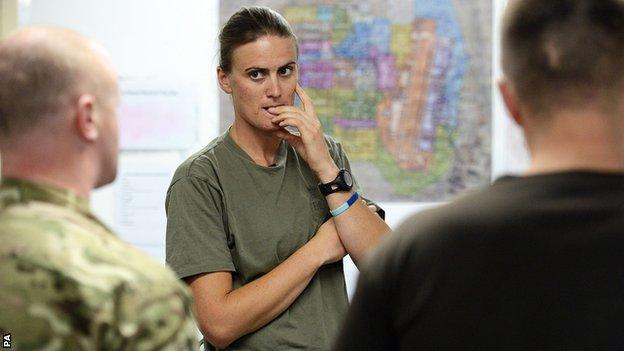 It's not often that Twickenham and Old Trafford are silenced.
But as Remembrance Day approached, and a nation commemorated the sacrifices made by its troops in nearly a century of conflict, you could have heard a poppy pin drop at two of the weekend's biggest sporting events.
It wasn't just at England's autumn rugby union international against Australia on Saturday and Manchester United's Premier League meeting with Arsenal on Sunday that the silence spoke so loudly. The gesture was repeated at sports grounds across the country.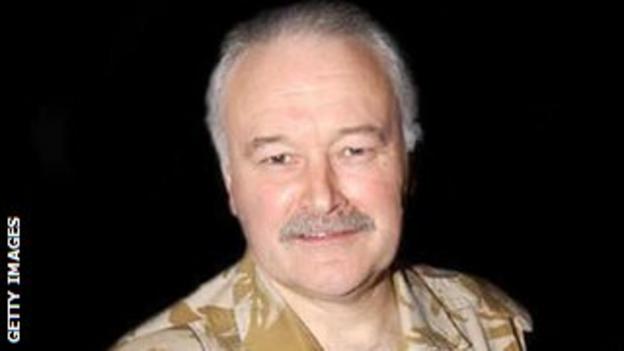 Sporting heroes and fans alike recognise the debt owed to those who fought in two World Wars, and to those servicemen and women who have died or been grievously wounded while representing their country in more recent conflicts.
And according to the man in charge of the British Army, sport will be at the heart of military life as troops prepare to withdraw from Afghanistan over the next year.
General Sir Peter Wall can list many parallels between sport and being a soldier: "Fitness, the outdoor life, teamwork, leadership, planning campaigns, and inevitably coping with the upsides and the downsides."
I met General Wall in his office at the Ministry of Defence, where sporting photographs adorn the corridor walls - including images of the annual Army v Navy rugby match at Twickenham, hotly contested each spring in front of a crowd of more than 70,000.
It was because of his passion for sport that Peter Wall joined up. A former modern pentathlon world junior champion, he saw an opportunity to continue his sporting career. Nearly 40 years later, he's risen to the position of Chief of the General Staff - the highest-ranking post in the British Army.
Over the past 12 years of conflict in Iraq and Afghanistan, more than 600 service personnel have been killed and many more seriously wounded. Sir Peter says sport will be a vital part of getting troops used to life back at base in the UK.
"In wartime, there's plenty of other competition being offered, some of it extremely demanding, very tough, not altogether desirable," he told me. "Some of it is the sort of thing our people join the army for.
"As we come off the known operational commitment in Afghanistan at the end of 2014, we need to make sure we can fill the soldiers' time very constructively, pending the next set of operations, and sport is part of that equation."
There's certainly no shortage of choice. At Aldershot, the home of the British Army, the Army Sport Control Board oversees 45 different sporting associations, with around 70 different disciplines on offer.
The army takes great pride in its elite athletes. Four soldiers are currently playing Premiership rugby union - including Bath back Semesa Rokoduguni, a reconnaissance tank soldier with the Royal Scots Dragoon Guards.
Paula Walker is in the Royal Signals and partner John Jackson is a former Commando in the Marines; both hope to be part of the British bobsleigh team at the Winter Olympics in Sochi next year.
And one half of the pair who won Team GB's first gold medal at the London 2012 Olympics is a captain in the Royal Artillery - rower Heather Stanning, who with Helen Glover won the women's pair at Eton Dorney.
A few weeks of celebration followed that success in August last year. But by the end of April, Stanning was back in Afghanistan.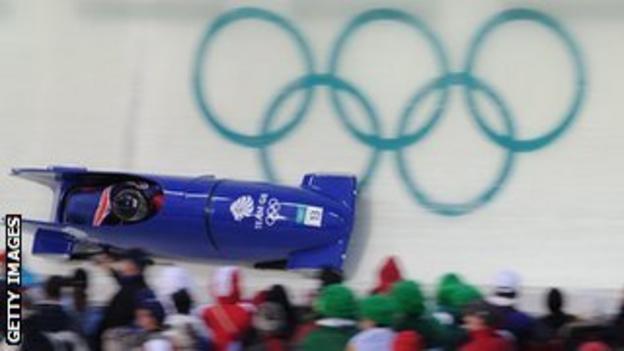 "I was working in Camp Bastion, which is very dusty," the 28-year-old said. "But essentially it was just an office job, just in a different part of the world. I was there on 1 August, that was a year on [from winning Olympic gold], and Helen sent me a video saying 'Happy Anniversary'.
"That was quite surreal, because she was on a training camp and I was at Camp Bastion and I thought, 'Our lives are very different nowadays'."
Stanning has just returned home, and plans to continue her army and sporting careers in parallel.
Nick Beighton, meanwhile, is leaving the army, but for a life in sport which he would never have imagined four years ago.
Beighton, a captain in the Royal Engineers, had both his legs blown off by an improvised explosive device in October 2009.
On his return home, with the help of the Battle Back initiative, he took up rowing and competed at the London Paralympics, narrowly missing out on a medal. But the disappointment of finishing fourth was put into perspective by the incredible journey he had completed.
"In the early days, just to sit up in bed and treat myself was a massive achievement," Beighton, 32, said.
"To get out of bed after three months with a broken pelvis and get into a wheelchair and move around was an achievement. I think it's true of British service personnel that you strive for more, you're never satisfied with where you are.
"I'd always been active, I'd always been fit and healthy and you want to hold on to the things that are familiar, because a lot of things in your life aren't familiar. Sport and physical activity were quite a fundamental part of my recovery, really."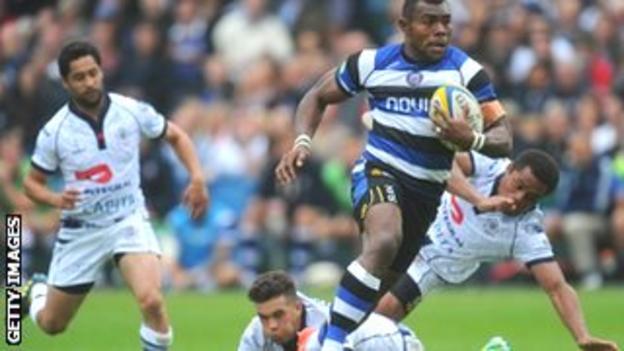 But it's not just the Olympians and Paralympians who benefit from sport in the army.
On the squash courts at Aldershot, I met Aaron Stoney, who has served for three years with the Grenadier Guards in Cyprus, Canada and Afghanistan. For him, sport is fundamental to service life, home and away - and it contributes to domestic harmony, too.
He said: "You had somewhere to vent frustrations if you felt a bit tied up, so you could come and play squash and feel much better for it.
"The same when you're out there. It's team-building playing football with your friends, and that helps on the battlefield. Sport's fundamental for me. I love it, it's what keeps me going.
"And it keeps me out of the house, keeps me away from my wife - it keeps her happy!"
You can hear Eleanor Oldroyd's interview with the head of the British Army, General Sir Peter Wall, on Fighting Fit on Thursday, 14 November from 19:30-20:30 GMT on BBC Radio 5 live.