Drugs in sport: Wada doubles doping ban in new code
Last updated on .From the section Sport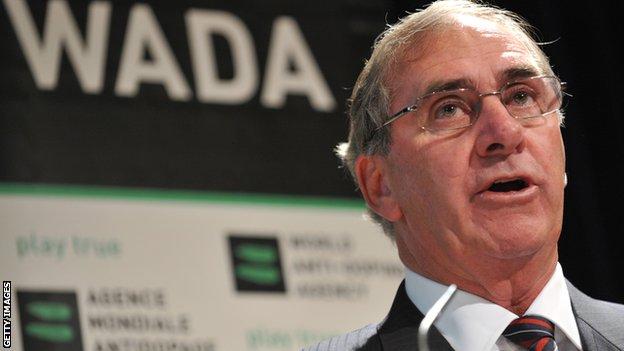 The World Anti-Doping Agency (Wada) has approved stricter punishments for athletes found guilty of doping, doubling bans to four years.
A first major offence currently carries a two-year ban, with athletes banned for life if they test positive again.
The new code, which comes into effect from 1 January 2015, means offenders will miss at least one Olympic Games.
Wada also confirmed that Britain's Sir Craig Reedie, 72, will become its new president from 1 January next year.
The former chairman of the British Olympic Association will succeed John Fahey, who has been Wada president for the last six years.
Wada's new code also introduces increased flexibility in the punishment of athletes who are found to have mistakenly taken banned substances or who co-operate with doping investigations.
Doping policies will be custom-made for individual sports.
"There is no point in the chess federation, for example, testing for human growth hormones," added Fahey.
The revised code follows two years of re-evaluation, during which time the discovery of disgraced former cyclist Lance Armstrong's extensive doping highlighted the tough battle for clean competition.
The changes have been welcomed by British sporting bodies, with UK Anti-Doping chief executive Andy Parkinson saying: "In the UK we have consistently stated that anti-doping needs to continually evolve to protect clean athletes.
"Today we are delighted that many of the practices already implemented in the UK are now included in the revised Code and Standards, most notably tougher sanctions for cheats and a focus on intelligence-led and flexible programmes designed to both prevent and detect doping.
"We now look forward to implementing these changes in partnership with sports in the UK, so we are able to further support our clean athletes."
Parkinson also welcomed the appointment of Reedie, adding: "Sir Craig is rightly held in very high regard within the sporting movement and around the table of Wada.
"The challenge for him over the next few years is to bring the public and sporting authorities closer together, and to lead the evolution and strengthening of compliance with the new code."
UK Sport chief executive Liz Nicholl added: "I am delighted to see the new Wada code has tougher sanctions for doping but also has scope to encourage athletes to disclose information which may lead to the authorities being able to root out more drugs cheats from elite sport."
Wada's announcement follows that of the International Association of Athletics Federations (IAAF) in August, with the world governing body stating its intention to revert to a four-year ban for athletes found guilty of doping from 2014.
It had cut the length of bans from four to two years in 1997 to bring it in line with other international sports bodies.