Rory McIlroy and Caroline Wozniacki announce engagement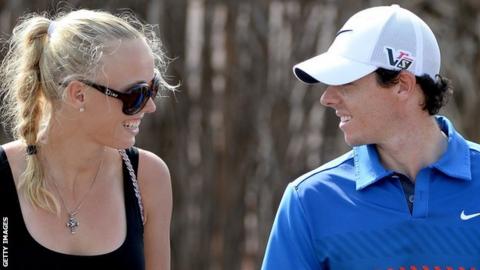 Golfer Rory McIlroy and tennis player Caroline Wozniacki are to marry, the pair have announced.
Two-time major winner McIlroy, 24, and former world number one Wozniacki, 23, took to Twitter to reveal their plans.
McIlroy posted a picture of them both and added: "Happy New Year everyone! I have a feeling it's going to be a great year!! My first victory of 2014 #shesaidyes!!"
Wozniacki tweeted: "Rory and I started 2014 with a bang! ... I said YES!!!!"
Northern Irishman McIlroy and Dane Wozniacki have been in a relationship since 2011 and have regularly appeared together in public.
In April, Wozniacki acted as caddie for McIlroy in a par-three competition on the eve of the Masters.