Lacrosse: Devon Wills set to become first female MLL player
By Joel Hammer
BBC Sport World Service
Last updated on .From the section Sport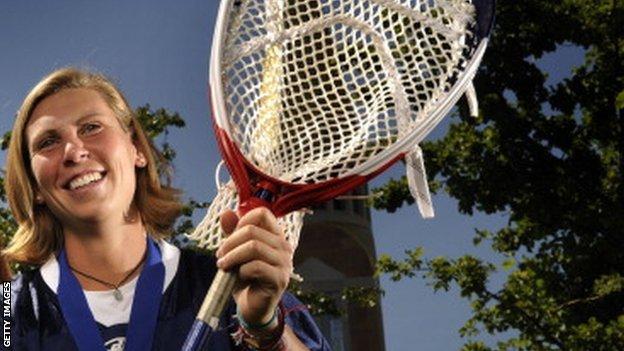 Devon Wills is set to become the first female player in Major League Lacrosse (MLL) history.
Wills, 29, was selected by the New York Lizards in December and is in line to make next season's squad.
If chosen in April's final cut, the goalkeeper will become one of few female athletes to have crossed over to a male-dominated professional sport.
Although its following in the United Kingdom remains modest, lacrosse is widely popular in the United States.
Average attendance at MLL fixtures exceeded 6,500 in 2013 and matches are televised on major networks.
"It was a huge honour, obviously really exciting. When I heard I was completely floored. It's a whole new dream," she told Sportshour on the BBC World Service.
"It's a noteworthy story simply because it's a female playing in a male arena but for me it's just an opportunity to try and compete and come out and play with the best of the best.
"I have full faith in the Lizard's coaching staff that they are going to do what's best for the team so if I'm good enough, I'm good enough and if I'm not, I'm not. I'm just grateful for the opportunity."
Wills, who made her name in the sport at collegiate level with Dartmouth, currently works as assistant coach for women's lacrosse at the University of Southern California.
She has played at international level with the United States and was voted player of the match as the US defeated Australia to win the Women's Lacrosse World Cup in 2009.
For Lizards owner Andrew Murstein, the signing of a female player could provide the team and the sport at large with a significant boost - as has been the case with Nascar female driver Danica Patrick.
Murstein, who is also involved with Nascar team Richard Petty Motorsports, made reference to Patrick, the most successful female driver in the history of professional stock car racing.
He said: "Through our ownership of Richard Petty Motorsports in Nascar, we've seen first-hand how great it is for a sport to have a woman athlete compete effectively at the highest level. Devon is a terrific young woman who is a great role model to female athletes everywhere."
Most sports separate males and females without ruling out the possibility of their competing together.
However, in 2004, football's world governing body Fifa stated "there must be a clear separation between men's and women's football" after Maribel Dominguez signed for Mexico's second-division club Celaya.
There are still significant challenges ahead for Wills before she steps out on the field in Major League Lacrosse, but it is not making history that drives her forward.
"If it doesn't happen I'll not be disappointed I wasn't able make history, more so that I didn't make the team.
"Although when I was debating whether or not to put my name forward a friend said to me 'If you would rather see someone else be the first, don't do it' and that got my competitiveness bubbling and I said 'No, I want to be the first!'"
You can download the Sportshour podcast or listen again to the latest episode.