Jamie Cureton: Surviving 20 seasons in the Football League
By Caroline Chapman
BBC Sport
Last updated on .From the section Football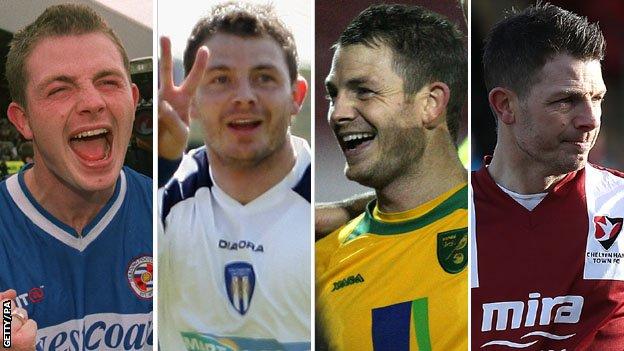 Striker Jamie Cureton may have played 737 games and scored 254 senior goals, but perhaps the most memorable moment in his 20-season career involves a can of hairspray from a joke shop.
"If you mentioned my name at that club now, the green hair is the first thing that will come up," Cureton told BBC Sport.
The incident occurred in the Norwich City dressing room, prior to a First Division game at fierce local rivals Ipswich in April 1996, and it gave the then-Canaries youngster - and self-proclaimed rascal - cult status.
"It came to the local derby and someone decided we all had to have skin heads," Cureton continued. "Darren Eadie, who was a bit of a pretty boy, wouldn't cut his hair, so he suggested spraying it green.
"It was only a can from a joke shop. But it got to the game and he wouldn't do it. Typical me - I said I'd do it instead.
"We sprayed it in the changing rooms, but didn't have enough time to dry it. I ran out, didn't think anything of it, but the whole place went crazy. I was sub so I was getting stick running up and down the touchline. Also, the green was coming off and running down my face because I was sweating.
"But I managed to come on and score, and everyone pointed at my hair and made a big thing of it."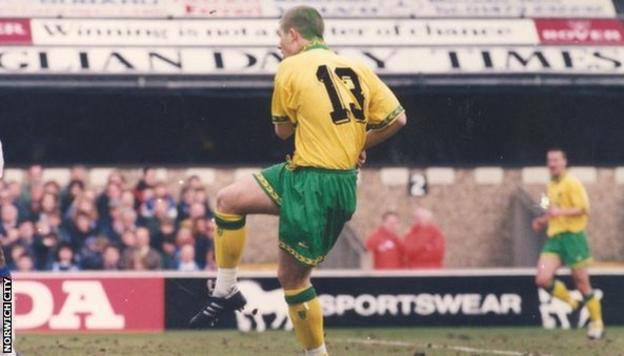 Two decades later and the pranks and schoolboy antics are a thing of the past, but Cureton is still scoring for fun, aged 38, for League Two Cheltenham Town.
He is the fourth oldest outfield player currently playing the top four divisions - behind Manchester United's Ryan Giggs, Leicester's Kevin Phillips, both 40, and Tranmere's Ian Goodison, 41.
But reaching his 20th season as a professional has come as a surprise to some, given that he almost derailed his career early on.
"Friends in the game, who I've known a long time, will wonder how I've done it," he admits.
"I got in a fair bit of trouble when I was young. In the 90s, there was a drinking culture and being a young lad you wanted to be in that.
"Sometimes I'd turn up at training in the same clothes as the night before. I wanted to be one of the boys, so sometimes I did stuff just to impress them."
Cureton made a name for himself by scoring 82 times in 90 matches in Norwich's youth team.
The 5ft 8in striker made his full Canaries debut in a goalless draw against Everton in the Premier League on 5 November 1994, and scored his first senior goal just 13 seconds after coming on as a substitute against Chelsea the following month.
His stock was on the rise, but so was his ego.
"I was a cocky kid, fairly arrogant, so I thought the Premier League was where I should be playing," said the Bristolian.
"I had a lot of clubs chasing me from a young age. I started at the top and I didn't know any different. The money wasn't like it is now and I dread to think what I'd have been like being a youngster now. I still got carried away, I lived it up.
"After every game I'd be out with friends and didn't concentrate on the football. I just turned up on the training ground and knew I could do the business.
"I was quite naughty, but I was just a normal person - a normal person with a talent."
However, talent alone was not enough to keep him at Norwich.
After a brief loan at Bournemouth, and five months after the famous hair-spraying, he was shipped off home to Bristol.
His four-year spell at Bristol Rovers did not quite keep him on the straight and narrow up to the top flight, but it did help cement his now legendary status in the lower leagues.
"I got all hyped up in Bristol, with old school friends following me and my family coming to games. I loved every minute of my time there and I wouldn't change it now.
"It's where I made my name and started scoring."
As part of Ian Holloway's Rovers in the Second Division, Cureton scored 72 goals in 174 games and struck up a highly successful partnership with now-Reading striker Jason Roberts, the pair netting 48 goals between them in the 1999-2000 season.
Cureton recalls Rovers as the happiest time in his career, but he dreamed of the Premier League and some Gas fans turned on their home-grown hero when he handed in a transfer request, along with Roberts, in the summer of 2000.
Twelve moves in 10 years followed, and although he never made a return to the top flight, he added 182 more goals to his personal tally.
Cureton went on to play for Reading, Pusan Icons in South Korea, QPR, Swindon, Colchester, Norwich for a second time, Barnsley, Shrewsbury, Leyton Orient and had two spells at Exeter.
And he is still going strong, with seven goals in 23 games - including a landmark 250th career strike - for Cheltenham.
So what is the reason for his longevity?
"I don't go out anymore, I'm too old," he says with an air of disappointment. "When training has finished, all I think about now is preparation and making sure my body can play, rather than where I'm going out.
"I train every day, when some players who are younger than me only train twice a week, and I have 21-year-olds going 'I'm never going to play at your age'.
"Some of them are young enough to be my kids. I could be their dad - I bet I'm older than some of their dads."
Cureton returns to his happy place again on Tuesday night, when Cheltenham travel to Bristol Rovers in a rearranged game at the Memorial Stadium.
You have to wonder when he will stop coming back for more.
"When I know I'm ready, I'll quit," he concluded. "I won't let someone retire me. I'm just happy I've managed to turn out a decent career, despite some stupid decisions.
"I'm still playing and I want to be playing when I'm 40."