Moya Dodd says quotas are needed for boardroom diversity
By Caroline Rigby
World Service Sports reporter
Last updated on .From the section Sport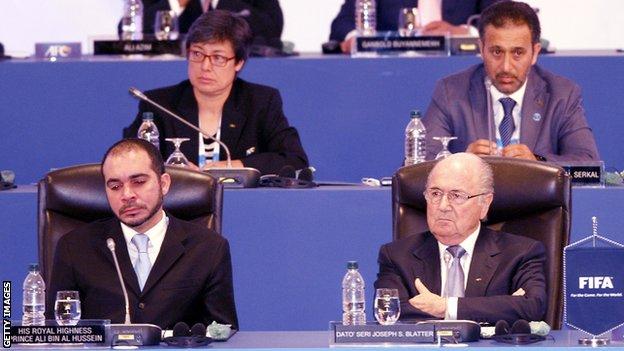 One of the most high profile women in global football says quotas are a necessary evil to increase the level of diversity in sport boardrooms.
Fifa executive committee member Moya Dodd believes she only gained her position at football's world governing top table because of the introduction of a quota for female representatives.
"In an ideal world there would be no need for quotas because you'd have well-functioning, merit-based systems providing equal opportunities," she said.
"But I think quotas are useful if you think that those systems are not working or not working quickly enough to ensure outcomes."
Dodd, who also became the first female board member of the Asian Football Confederation and Football Federation Australia, said more effort was needed to encourage women to take up senior positions in sports governance.
The former Australia footballer turned lawyer added: "I am sure I am only a member of the Asian Football executive and the Fifa executive committee because those positions were created for female members.
"I think it would be a long time before women started turning up at executive committee level if it were not for those seats."
Despite efforts to increase gender diversity, men still dominate sports governance.
According to the International Olympic Committee, women make up just 17% of the executive boards of International Sports Federations and National Olympic Committees.

The Women's Sport and Fitness Foundation has released its latest findings which show that the overall percentage of women on the 45 NGB sport boards in England has risen from 23% last year to 27% but nearly half (49%) have less than a quarter of women on their boards.
Ruth Holdaway, CEO for WSFF, said: "I find it shocking that in 2014, we still have so few women in leadership positions in sport. Reaching a 30% diversity threshold for NGB boards by 2017 is entirely possible.
"There is a wide and varied pool of talented women actively seeking these roles. NGBs have no excuse, and are missing out by being so male dominated at the highest levels."
The statistics in sport are better than those in other businesses. Women account for 20.7% of overall board directorships in the FTSE100 companies, with a target of 25% by next year.
Helena Morrissey sits on the UK Women and Sport Advisory board and is chief executive of Newton Investment, sponsors of the Women's Boat Race.
She has worked hard to improve the representation of females in boardrooms, but believes quotas can be demeaning to women and do not necessarily work.
"I'm very anti-legislative or mandatory quotas because I think they can end up with a lot of tokenism and questioning someone's ability to serve on the job," she said.
"I think it's very off-putting for others but can also diminish a woman - to be there because she's a female."
Dodd, a mother of two, also suggested a historical lack of women participating in sport could be behind fewer female candidates putting themselves forward for roles.
"When it comes to a shortlist of potential board candidates, women don't show up in the same numbers, because they have not had those opportunities all the way through the system, she said.
"That's a slow-changing beast, it doesn't change overnight. As more and more girls play and go onto become involved in administration or governance after they've hung up their boots, you could be looking at a 20 or 30 year time-frame before that occurs.
"Fifa and the AFC said 'let's shortcut this and create some positions for women and be done with waiting.
"I would love to get to the day when we can stop discussing someone's gender and it ceases to become an issue," added Dodd.