Brazil v Germany: Seven sporting moments that shocked the world
Last updated on .From the section Sport354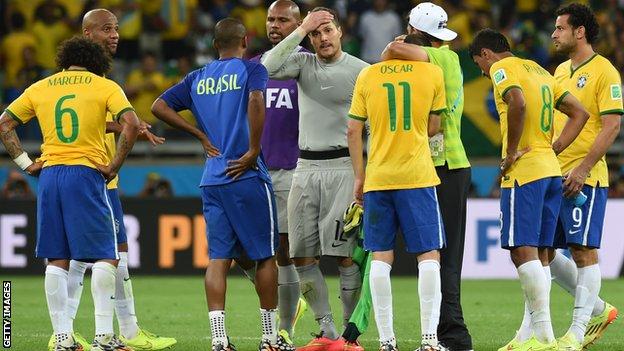 Germany's astonishing 7-1 semi-final win over hosts Brazil in Tuesday's 2014 Fifa World Cup semi-final was arguably the biggest shock in football history.
Here, in tribute to the Germans' seven stunning strikes, BBC Sport takes a look at seven other sporting achievements that made jaws drop around the globe.
The list is not intended to be definitive. You can let us know your own candidates - and what you think of ours - in the comments section below.
Bob Beamon's 'Leap of the Century' - 1968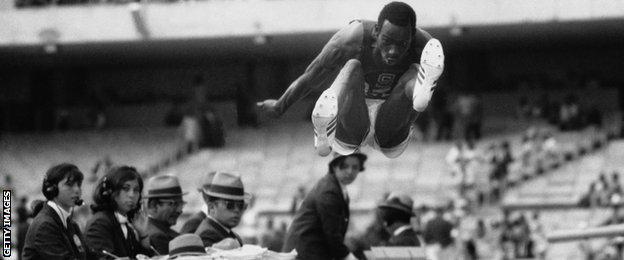 What happened
American Bob Beamon arrived at the 1968 Mexico Olympics as the favourite for the long jump, having already registered a wind-assisted 8.39m - four centimetres further than Igor Ter-Ovanesyan's world record, but illegal for record purposes.
What the 22-year-old accomplished in the Olympic final put both efforts in the shade. In his first attempt, Beamon shattered Ter-Ovanesyan's mark, also set at altitude in Mexico City, by more than half a metre.
The jump of 8.90m was dubbed "The Leap of the Century" and was to last 23 years until another American, Mike Powell, leapt 8.95m on 30 August 1991 at the World Championships in Tokyo, a record that still stands.
What they said:
The USSR's Igor Ter-Ovanesyan: "Compared to this, we are children."
Great Britain's Lynn Davies, 1964 Olympic champion and ninth behind Beamon in 1968: "He's destroyed the event."
Nadia Comaneci's perfect 10 - 1976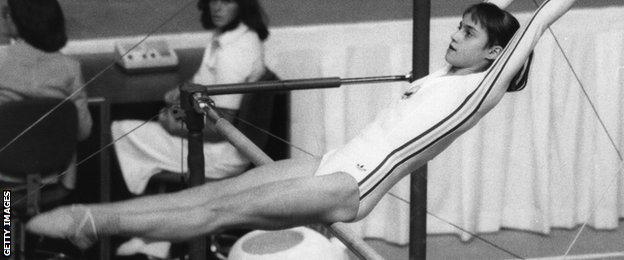 What happened
The floor routine by the Soviet gymnast Olga Korbut at the 1972 Olympics had won worldwide acclaim for its artistry, but the display on the uneven bars by 14-year-old Nadia Comaneci in Montreal four years later rewrote the record books.
The Romanian's performance, which came in the team event, was deemed so good by the judges that they awarded her the first perfect 10 ever seen at an Olympic gymnastics competition.
It even caused a glitch with the electronic scoreboard, which showed a score of 1.00 because it had been built to display three figures only. Comaneci achieved the perfect 10 six more times in Montreal, winning three gold medals in the process.
What they said:
Nadia Comaneci: "I think I could have done a little better. My entire routine was so unique and better than the others that the judges did not have a place to go with the scores. The scoreboard confused me. One of my team-mates whispered to me that she thought it was a 10, but they could not make it a 10."
'The Miracle on Ice' - 1980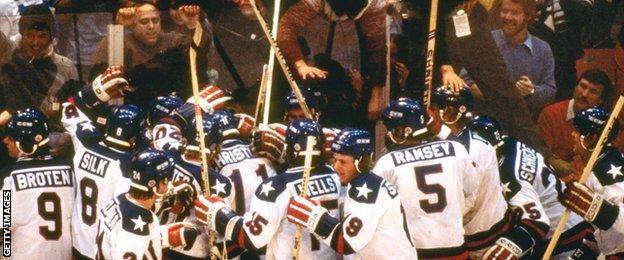 What happened:
At the height of the Cold War, the Soviet Union, winners of the previous four gold medals, known as the 'Big Red Machine' in the United States and the best team in the world, were huge favourites to win the 1980 Winter Olympics at Lake Placid, New York.
They met the United States, made up of amateurs and college players, in the first match of the final round, contested by four teams.
Though they totally dominated the second period, the Soviets led 3-2 when the United States levelled before Mark Johnson put the hosts in front in the third period. With goaltender Jim Craig saving 36 of 39 shots on goal, they clung on for an incredible victory, going on to beat Finland in their final match to clinch the gold medal.
What they said:
United States player Neil Broten: "For a group of college kids to defeat the greatest team to play ice hockey was the best feeling ever. If we played that team 10 times, we would lose 10 times. On that night the stars were aligned or something."
Russia player Alexei Kasatonov: "We didn't think the Americans would present any serious opposition. We'd beaten them soundly just before the Olympics so we weren't worried and we thought we would beat them easily. Diplomatic relations were non-existent and the pressure on us was almost unbearable in part because of the politics."
Becker wins Wimbledon at 17 - 1985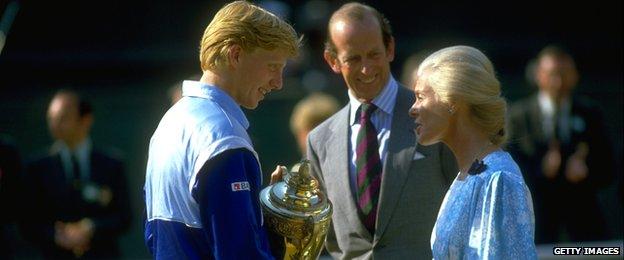 What happened:
Boris Becker, 17, became the first unseeded player to win Wimbledon, the first German champion at SW19 and the youngest winner of a Grand Slam when he beat South Africa's Kevin Curren in four sets, having won his first Grand Prix tournament, at Queen's Club, only three weeks earlier.
Becker made no apology for his aggressive play, staring at Curren before and after points, as well as catching his opponent's shoulder when they changed ends.
The German won fans for the way he threw himself around the court and shocked Curren as he won the first of six Grand Slam titles.
What they said:
Boris Becker: "This is going to change tennis in Germany. I am the first Wimbledon winner and now they have an idol."
Flo-Jo's golden year - 1988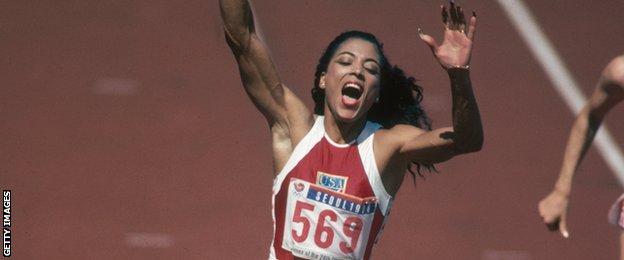 What happened
American sprinter Florence Griffith-Joyner arrived at the 1988 US Olympic trials regarded mainly as a 200m runner and with a personal best in the 100m of 10.96 seconds, set five years previously. But in the quarter-finals she not only broke fellow American Evelyn Ashford's world record, she smashed it. Her 10.49 took 0.27secs off the record and made her hot favourite to claim gold in Seoul.
She took the Olympic crown with ease, smiling broadly for the latter part of the race as she clocked 10.54 to finish 0.30secs ahead of nearest rival Ashford. Two more gold medals followed, in the 200m and 4x100m relay, with another big world record of 21.34 set en route to the 200m title.
However Griffith-Joyner's success was tainted by suspicions she had taken performance-enhancing substances, which never went away. The athlete died suddenly, aged just 38, a decade later.
What they said:
Florence Griffith-Joyner: "I trained a lot harder - maybe three times harder - for the '88 Olympics. There is no substitute for hard work. I have the medals to prove it."
Buster Douglas beats Mike Tyson - 1990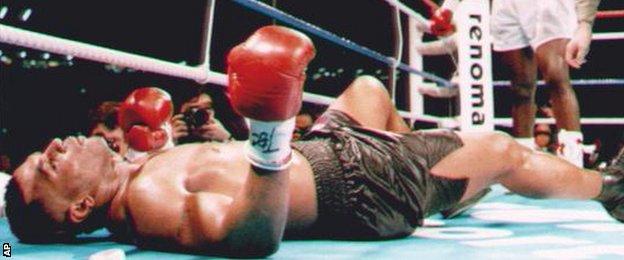 What happened:
After becoming the youngest ever heavyweight champion at the age of 20 in 1986, Mike Tyson seemed unstoppable and was looking to extend his unbeaten streak to 38 fights when he met the unheralded James "Buster" Douglas in Tokyo in 1990. Douglas had earned his title shot with victories over former champion Trevor Berbick and future champion Oliver McCall but he already had four defeats on his record and Tyson's victory was deemed such a certainty that most bookmakers in Las Vegas did not even offer odds on the fight.
Douglas surprised Tyson from the start but when the champion put him down in the eighth round, it looked like normal service might be resumed. However, a right uppercut started a flurry of punches that sent Tyson to the canvas for the first time in his career and the champion's gumshield was out before the referee had even reached the count of 10.
Tyson eventually reclaimed his undisputed crown but was never the same fighter again.
What they said:
Speaking to Esquire in 2010, Mike Tyson: "I just stopped caring. All those headlines. I didn't care about boxing. And when Douglas got up after I knocked him down and came back at me - I didn't have it in me. I didn't have it in me when I knocked him down, either. It's just…more power to him, he got up. Nobody else had."
Buster Douglas: "I was relaxed and I fear no man. He was the champion and he was coming to get me but I was ready for it."
Tiger Woods wins the Masters by 12 shots - 1997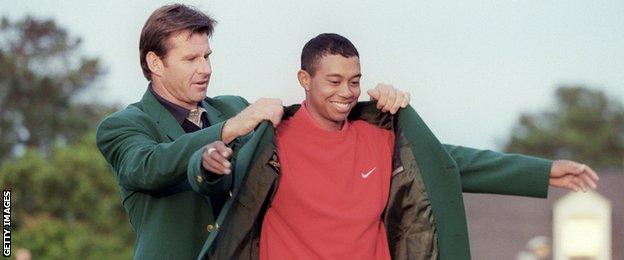 What happened:
Eldrick "Tiger" Woods was already regarded as one of the game's top young players going into his first Masters tournament as a professional in April 1997 - he had turned pro just eight months previously - but four days in Augusta helped turn the 21-year-old into one of the biggest stars in sport.
He started with an opening round of 70 but then shot two stunning rounds of 66 and 65 to take a nine-shot lead into the final round.
Eighteen holes later, he was champion by 12 shots, the largest margin of victory in Masters history, making him the tournament's youngest winner and the first black player to win a major.
What they said:
Tiger Woods: "I never thought I would have a lead like I did. You envision duelling it out with Jack Nicklaus or Tom Watson or Nick Faldo but never to do it in the fashion I did."
Some of the surprises that almost made it:
Australia legend Don Bradman getting a duck in his last Test in 1948, Wigan beating Manchester City in the 2013 FA Cup final, Goran Ivanisevic winning Wimbledon as a wildcard in 2001, Ian Botham's heroics at Headingley in 1981, Denmark and Greece winning the European Championships in 1992 and 2004 respectively, Liverpool coming back from 3-0 down to win the Champions League in 2005. Now let us know your nominations.
We gave readers of World Cup Sportsday one hour to vote for their greatest ever sporting shock. The overwhelming favourite was Germany's thrashing of Brazil, which was picked by 62% of the respondents.
Buster Douglas' victory over Mike Tyson was second (9%), followed by Boris Becker winning Wimbledon (8%), then Bob Beamon's world record and The Miracle on Ice(both 6%). Tiger Woods winning The Masters by 12 shots came next (4%), followed by Nadia Comaneci's perfect 10 (3%) and Flo-Jo's golden year (1%).