Guernsey to bid to host 2023 or 2025 Island Games
Last updated on .From the section Sport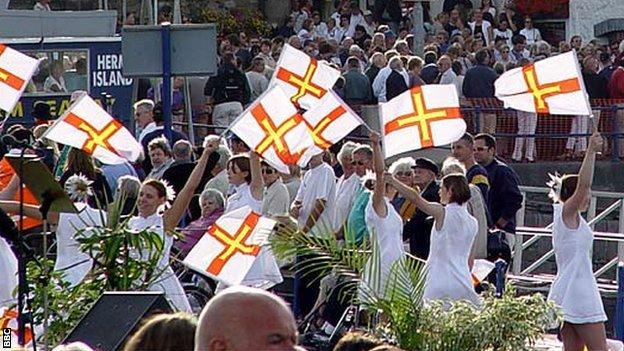 Guernsey will bid to host either the 2023 or 2025 Island Games, according to the organiser of the 2015 games.
Guernsey has previously hosted the Island Games in 1987 and 2003.
They indicated their interest at the International Island Games Association's (IIGA) annual meeting in Jersey earlier this month.
"They've put a marker down for that, so that was well received. That will go through the normal process now," Phil Austin told BBC Radio Jersey.
Guernsey had previously indicated but the IIGA will now consider in more detail whether Guernsey is capable of holding the event.
"Guernsey put their hand up and said they'd consider holding the games in either 2023 or 2025," said Austin.
"That was well received - they last had it in 2003, so that would be 20 years."
There has also been a shuffle in the hosts for the 2019 and 2021 Island Games, with Menorca, who had been down to host the 2021 event, agreeing to swap with 2019 hosts the Faroe Islands.
"The Faroes approached the international executive committee recently to say that not all of their facilities are going to be ready in time," continued Austin.
"In particular, they're building a new golf course that they desperately want to use for the games.
"They said if there was an opportunity to delay their games it would suit them very much.
"On the back of that the international committee spoke to Menorca. who were due to follow the Faroes and asked them if they could be ready for 2019 and Menorca said yes."