Support women's sport, GB swimming boss tells minister
Last updated on .From the section Sport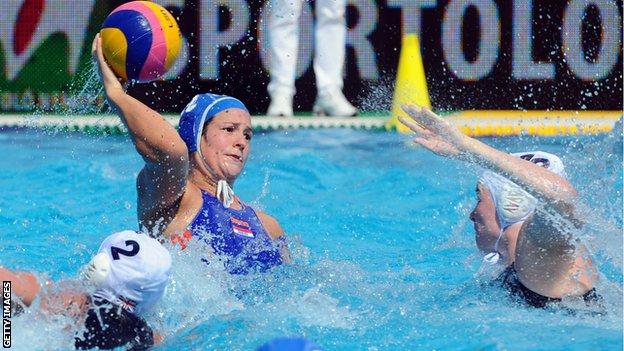 British Swimming chief executive David Sparkes has called on Sports Minister Helen Grant to offer more support for female athletes.
The team faces having to disband after UK Sport cut its water polo funding.
"The Minister needs to support these female athletes who have fought for their sports and for their country," Sparkes said.
Britain's women are competing at the European Championships in Budapest, Hungary - but are bottom of their group and close to elimination after losing 11-5 to the Netherlands on Friday. They face Hungary on Sunday in their final group match.
The team - who had hoped to compete at the 2016 Olympics in Rio de Janeiro - will be disbanded unless a successful campaign leads to qualification for the World Championships in 2015.
"It's clear the team has made significant progress but it's also clear the loss of funding has affected the athletes both mentally and in their match preparations," said Sparkes.
Water polo was one of four sports to have its elite-level funding cut by UK Sport in February, along with basketball, synchronised swimming and weightlifting.
At the time, UK Sport chief executive Liz Nicholls said that it would be "high risk" to continue funding sports with little chance of winning an Olympic medal by 2020.
On Thursday, a parliamentary report said that the cut in elite basketball funding was harming young people's chances of escaping a culture of gang violence and knife crime.
In response to that story, a UK Sport spokesman told the BBC that it was investing more than £385m in 45 summer and winter Olympic and Paralympic sports to ensure medal success at Rio 2016, PyeongChang 2018 and Tokyo 2020.
But Sparkes said that both basketball and water polo were suffering for the loss of their Olympic funding.
He said: "Both are sports are attractive to women and yet we have a Minister that claims she wants to see more women in sport.
"The Minister needs to support these sports - if we don't, we will be denying a generation of young girls the opportunity to be reach the top of their sport and represent their country."