Tour de France: Geraint Thomas on Nibali, future hopes & Glasgow

By Geraint Thomas
Team Sky's five-time Tour de France rider
Last updated on .From the section Sport65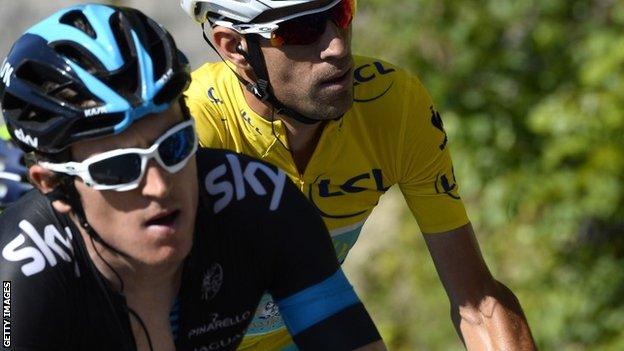 The Tour de France is over and Italy's Vincenzo Nibali has joined the cycling greats by becoming the sixth man to win all three Grand Tours.
Four British riders started the race: defending champion Chris Froome and his Team Sky team-mate Geraint Thomas, Omega Pharma - Quick-Step sprinter Mark Cavendish, who has won 25 Tour stages, and 21-year-old debutant Simon Yates.
By the end of stage five, Froome and Cavendish had crashed out, while Yates, who rides for Orica GreenEdge, was withdrawn after stage 15. Thomas rode to the finish in Paris to complete his fifth Tour.
In his final Tour column for BBC Sport, Thomas talks about his worst day on the Tour and the challenge of going straight to the Commonwealth Games to represent Wales.
Firstly, chapeau to Vincenzo Nibali. He proved he was the strongest rider in the race and is a deserving winner.
To win one Grand Tour is a massive achievement in itself so to win all three and join an elite group of riders is incredible.
It helped that Chris Froome and Alberto Contador weren't there to challenge him all the way to the finish in Paris but part of the race is staying on your bike.
His Astana team deserve credit for the way they defended the yellow jersey since he took it on stage two. We know how hard it is to do that, so as a team you cannot fault them.
Feeling the pain in the Pyrenees
For me, it's been a long three weeks and it all caught up with me on the second day in the Pyrenees last Wednesday on stage 17. Since then I've been feeling it.
That was easily my worst day on the Tour. It was not a particularly long stage at 124.5km but it featured four big mountain climbs and a summit finish.
I felt really empty and pretty legless. It was always going to happen. When I look back at the race, every day I was doing something, whether that was racing for Chris Froome in the early stages, or then Richie Porte or Mikel Nieve.
And then once Chris had crashed and Richie dropped away it was hard to change mentality again and start chasing stage wins.
I was racing at the front of the peloton and going deep most stages and there are only a few riders, if anyone, who can do that. If you keep going deep for 21 days it is going to catch you out and I had my bad day on one of the toughest stages which didn't exactly help.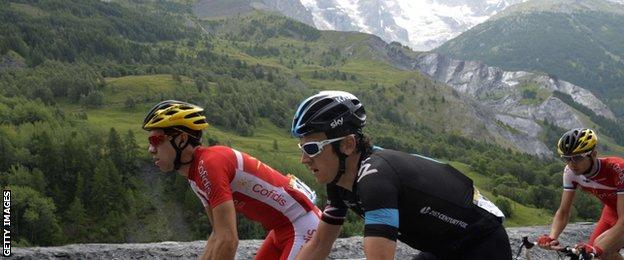 I had tried to get in the break a day earlier but I didn't quite manage it. I seemed to be in every move that didn't get away - whichever team is controlling the peloton that day will generally only let the break go when they are happy with the make up of the riders in it. But I felt OK on the final climb and finished in a group with Tejay van Garderen, who finished fifth.
I didn't do anything different that evening. I ate and had a massage, slept well but some days you wake up and you just don't quite have it.
There is not a lot you can do but just get through the race as best you can. I tried to go in the break again on the first climb but I didn't have the legs to stay up there so I had to ease back to the group and suffer in the peloton.
I had a similar feeling in Saturday's individual time trial. I knew when I was warming up on the rollers that I was going to struggle. My legs didn't feel great but I still went out there looking to go for the fastest time I could.
Just 5km into the 54km race I knew it wasn't going to happen, that I wouldn't be able to sustain the effort for an hour so I backed off a bit and just had to make sure I got to the finish.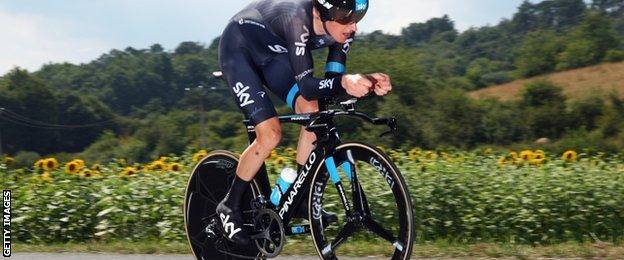 Personal success - my best Tour finish
The whole mood of the team was different riding into Paris this year, as you'd expect given we had the race winner in our team last year but everyone has come to terms with the fact we've not got much out of the race results-wise.
That's sport. You can't guarantee results and that's what makes it so exciting and interesting. It definitely gives us the motivation to come back and try to win the title back next year.
Personally, it's been a successful race in the way I've stepped up on some of the hillier stages and been in the thick of the racing most of the time.
When you're on a mountain ascent, it's great for morale and confidence when you look around and realise there's only 15 guys left and you're one of them.
The stages in Yorkshire were brilliant and I got a massive buzz on those days while the cobbles on stage five were great. In hindsight I didn't have to sit up and wait for Richie but it was good to go back and help pace him through the trickier sections.
I have finished in 22nd place overall, which is the highest of my five Tours de France. I think a top 10 could be possible if I had a protected role but then a team like Sky don't go into a Grand Tour just to get in the top 10, they want to win the race.
I may get the chance to lead the team at either the Giro d'Italia or Vuelta a Espana in a few years but at the moment I am just thinking about the week-long stage races, like Paris-Nice, and trying to get a good result in some of those.
The team is in a similar mindset to me. That's exciting and with the added confidence I've taken from this year's Tour, I can look forward to next season.
And so to Glasgow - it's going to hurt
The next thing to focus on though is the Commonwealth Games. I'm flying over to Glasgow on Monday and it will be great to wear the Welsh jersey again - the last time was in Melbourne in 2006. I feel like I represent Wales wherever I race but to actually wear the jersey is that extra bit special.
Usually after a Grand Tour I'll have a couple of weeks off the bike, switch off mentally and start to recover physically. Obviously I can't do that this time.
Mentally I should be fine because it's a change of scenery and I'll be with the Welsh boys. Physically, it's going to be hard to recover for the 40km time trial on Thursday and the road race on Sunday.
It will be tough in the time trial because riders like Scotland's defending champion David Millar and England's Alex Dowsett have had time to prepare and make sure they are in good form. It remains to be seen if the miles I have in my legs will be a help or hindrance.
I know it's going to hurt, however I ride. I can ride fast and hurt or go slow and hurt.
Luke Rowe and I will be joint team leaders in the road race, particularly as we don't know how I'm going to be feeling. Luke has been going well and it would be great if we could be in a position to have a two-pronged attack at the finish.
Racing for your national team is different to professional racing. It's a bit like junior racing in that there's not as much control and it's all animated from the start. Anything can happen.
Geraint Thomas was speaking to BBC Sport's Peter Scrivener.