Tour de France: Vincenzo Nibali praises doping controls
Last updated on .From the section Sport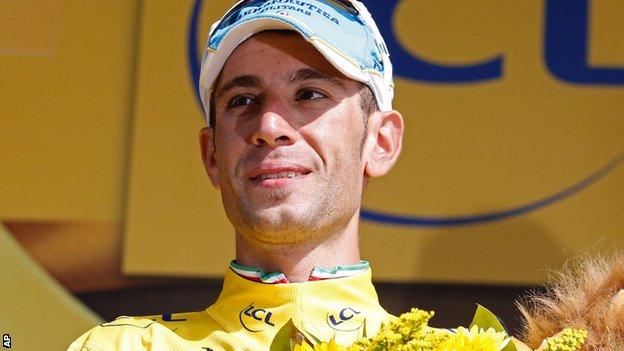 Italy's Vincenzo Nibali has praised the work of cycling's anti-doping agencies as he stands on the brink of his first Tour de France title.
Nibali has a lead of seven minutes 52 seconds over Frenchman Jean-Christophe Peraud going into Sunday's final stage.
Barring major disaster, Nibali will complete the set of three Grand Tours.
"If there had not been all these controls, targeted controls, the biological passport, maybe I would not be here," the 29-year-old said.
Nibali finished 19th in the Tour in 2008, the same year the International Cycling Union (UCI) implemented the biological passport, which creates a blood profile for riders and helps detect doping.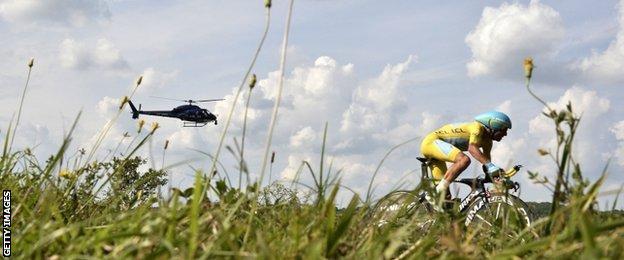 Two years later, the Sicilian won his first Grand Tour - the Vuelta a Espana.
He added his home Grand Tour, the Giro d'Italia, in 2013 and believes his success is evidence the UCI's controls are good for the sport.
"A lot of progress has been made and we can see the results now," said Astana rider Nibali.
American Lance Armstrong was stripped of seven Tour de France titles in 2012 for historical doping offences, but Nibali believes cycling has changed.
Asked if he would be ready to have his samples stored for future testing, Nibali replied: "Yes, I'm ready to accept this idea."
When his Tour de France victory is confirmed on Sunday, Nibali will join Spaniard Alberto Contador, Frenchmen Bernard Hinault and Jacques Anquetil, Italian Felice Gimondi and Belgian Eddy Merckx as the only men to have won all three Grand Tours.
Nibali's previous best finish in the Tour was third place, behind Britain's Sir Bradley Wiggins and Chris Froome, in 2012.
Riders to win all three Grand Tours

Rider

Wins

Eddy Merckx (Belgium)

Tour de France x5

(1969, 1970, 1971, 1972, 1974)

Giro d'Italia x5

(1968, 1970, 1972, 1973, 1974)

Vuelta a Espana x1

(1973)

Bernard Hinault (France)

Tour de France x5

(1978, 1979, 1981, 1982, 1985)

Giro d'Italia x3

(1980, 1982, 1985)

Vuelta a Espana x2

(1978, 1983)

Jacques Anquetil (France)

Tour de France x5

(1957, 1961, 1962, 1963, 1964)

Giro d'Italia x2

(1960, 1964)

Vuelta a Espana x1

(1963)

Alberto Contador (Spain)

Tour de France x2

(2007, 2009)

Giro d'Italia x1

(2008)

Vuelta a Espana x2

(2008, 2012)

Felice Gimondi (Italy)

Tour de France x1

(1965)

Giro d'Italia x3

(1967, 1969, 1976)

Vuelta a Espana x1

(1968)