Sleds, eggs, super studs and the 12 things we learned this year
Last updated on .From the section Sport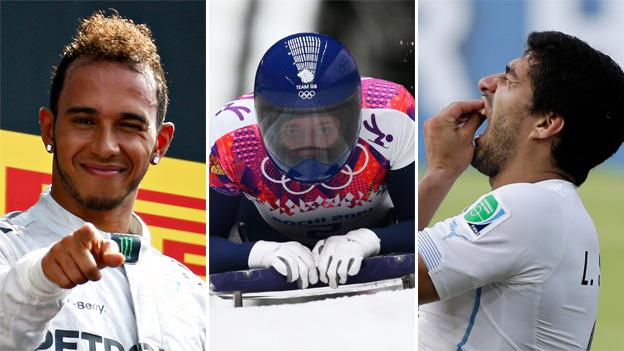 1. 75,715 - that's how many pies Manchester United need to sell to pay Falcao's weekly wage of £260,000.

2. The Ashes. Australia 5-0 England. "Pathetic". "Humiliating". Oh, and statistically England's worst tour in Ashes history.

3. Ey up, they love cycling in Yorkshire. Just the 2.5m people on the streets to see the Tour de France Grand Depart.


4. Horse racing's super stud Galileo is worth more than £85m man Gareth Bale, the most expensive player in football history.

5. Lizzy Yarnold won Great Britain's first gold at the 2014 Winter Olympics on a sled called Mervyn that she named after an insurance underwriter.

6. Burnley were solely responsible for English players getting more playing time in the Premier League.
Explore our clickable guide to the State of the Game study.


7. Germany are pretty good at football.

8. Rory McIlroy is very good at New Year resolutions. On 2 January he set the target of winning two majors in 2014. Job done.
Read how McIlroy went from "lost boy to golden boy".

9. They played on the same day at the same ground, but World Twenty20 final prize money was £646,000 less for women than the men.


10. Lewis Hamilton bust his strict diet to eat three poached eggs for breakfast after winning the Formula 1 world title. Daring.

11. The Luis Suarez bite. Bad but not football's ultimate sin. That's the leg-breaking tackle, according to pundit Steve Claridge.

12. World Cup shootout penalties are easier when the next goal wins, rather than when a miss means elimination. It's official. We worked it out.
Explore our complete guide to penalties hosted by Gary Lineker.