Sport bridesmaids: Avram Grant & Richard Johnson to Jimmy White
Last updated on .From the section Sport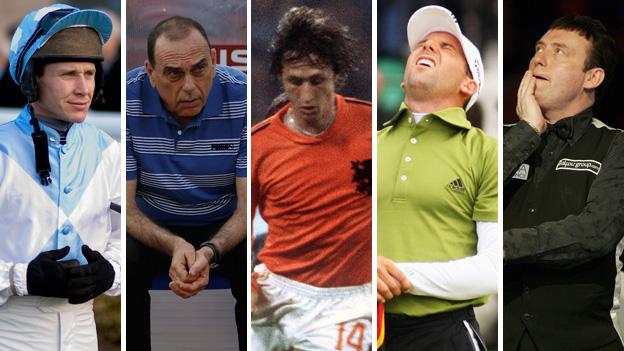 As 19-time champion jockey AP McCoy announced his retirement and Ivory Coast won the Africa Cup of Nations over the weekend, it got us thinking about those who - unlike McCoy - always seem to come second.
So just who are sport's biggest bridesmaids?
Richard Johnson
Jockey, 37 - Has been second to McCoy so often in the jockeys' title race, he cannot remember exactly how many times. We think it is 15, soon to be 16, but Johnson is favourite to go one better in his rival's absence next season.
Avram Grant
Football manager, 60 - Runner-up in the Cup of Nations, Champions League, Premier League, FA Cup, League Cup. The Ghana manager also endured heartache with Chelsea and Portsmouth, although you cannot argue with his record of reaching finals.
Jimmy White
Snooker player, 52-The greatest world champion there's never been? Six finals. Six defeats. Including four by Stephen Hendry. "I used to like the nightclubs and the gambling and Stephen used to like picking up the trophies," said White.
Sergio Garcia
Golfer, 35 - Another whirlwind, El Nino is a gifted player, but without a major. Second twice in both the USPGA and the Open Championship, where he blew a three-shot lead going into the final round in 2007. Scot Colin Montgomerie went one better, with five seconds in majors, although he was an even bigger talisman than the Spaniard for Europe in the Ryder Cup.
The Netherlands
Football team-Inspired by Johan Cruyff, the Netherlands played "total football" in the 1970s, but came undone in both the 1974 and 1978 World Cup finals, losing to West Germany and Argentina. They tried a rougher form of the game in the 2010 final, but were second best again - to Spain.