Claudia Pechstein puts sport's supreme court on trial

Last updated on .From the section Sport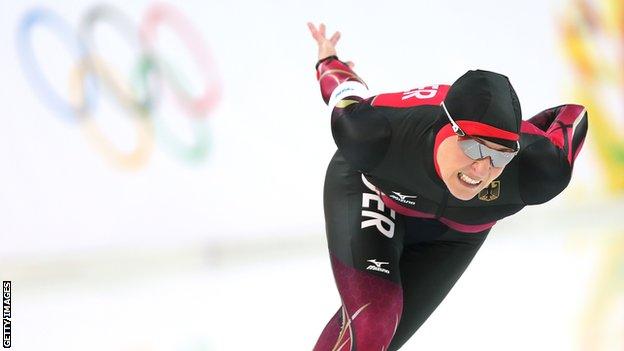 From Luis Suarez to Vanessa-Mae, Fifa to the Federation Internationale de Roller Sports, the Court of Arbitration for Sport (Cas) has been getting its teeth into sport's most fiddly cases for 30 years.
But a recent ruling in Germany, in which a civil court overturned a Cas judgement, has left the Swiss-based body unsure of its future and wobbly on its feet.
Set up by the International Olympic Committee as a backstop against sharp practice, bad science and hometown decisions, Cas has been reallocating medals, settling rows and dealing with cheats since 1984.
The court's pool of almost 300 sports law experts, drawn from 87 countries, deal with 300 cases a year - a number that has been rising as sport gets richer and therefore more vulnerable.
With doping doctors and match-fixing gangsters at the gate, sport has never needed a supreme court more than it does now, which is why the actions of a German policewoman have a certain irony.
Claudia Pechstein might not mean much to the average sports fan, in the same way nobody had heard of Jean-Marc Bosman before he became synonymous with revolution, but the 42-year-old speed skater is either a cynical cheat who could wreck the consensus on how we protect sport's integrity, or the most unfairly maligned athlete of recent times.
Never failed a test
Much like the Bosman case in 1995 - a small dispute over a Belgian journeyman's contract that ballooned into a crisis for football's entire transfer system - the potential ramifications of Pechstein's story far outweigh its run-of-the-mill opening chapters.
An East German prodigy who found relative fame and considerable fortune as a speed-skating sensation for the reunified Germany at five Winter Games between 1992 and 2006, Pechstein was accused of doping in 2009 and given a two-year ban.
So far, so unremarkable. But, even from the outset, there were elements to this tale not typical of the usual saga of strident denials, legal skirmishes and eventual confessions.
Claudia Pechstein: A life on the rink
Born in
1972
in Berlin, Pechstein grew up in East Germany but when the Berlin Wall came down she was on the way up, winning her first Olympic speed skating medal for Germany in
1992
Pechstein's perfect technique was ideal for the long-distance 3,000m and 5,000m events, winning the latter at the
1994
,
1998
and
2002
Games
A 3,000/5,000m double in
2002
made her a massive and wealthy star in Germany, and she is still her country's most successful Winter Olympian
But her life was upturned in
2009
when the International Skating Union accused her of blood doping, a charge she has spent six years fighting
Pechstein returned to the sport after her ban, winning world championship medals in
2011
,
2012
and
2013
, and narrowly missing a 10th Olympic medal in
2014
. She still competes in Germany
Pechstein, who divided her time between winning medals in the biggest events and light duties for Germany's border police, never failed an actual test.
The International Skating Union (ISU) had just adopted the biological passport, an electronic record of every drugs test an athlete takes, and clearly had its suspicions about Pechstein's longevity.
She was tested about 90 times between 2000 and 2009, but 12 of those tests came in the first quarter of 2009.
The importance of the passport to this story is that it enabled anti-doping experts to build a profile of Pechstein's blood. No longer would they need to find specific performance-enhancing drugs - they could just look for the effects of those substances or related doping methods.
The scientific detail of her case is complicated, but it boils down to a simple binary: she was doping or she was unwell. The ISU believed it was the former, banning her in June 2009, and defending that position at Cas five months later.
It is at this point these stories usually end, but not Pechstein's.
Fighting for her reputation
Two experts at her initial hearing had raised the idea that Pechstein might have an inherited blood disorder that explained her strange results. This was leapt on by her lawyers, who asked one of Germany's leading specialists to test her for the condition.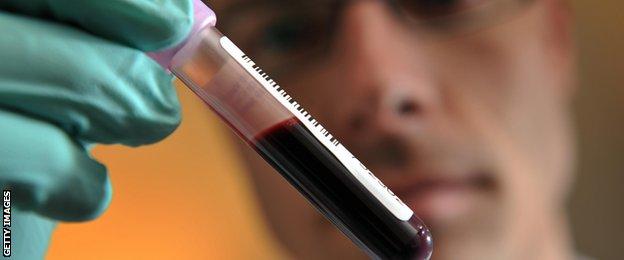 But the hand-picked expert ruled this out, as did the specialist unit that ran the tests. Cas arbitrators described this as the "decisive element" of her case.
The multiple world and Olympic champion, however, was fighting for her reputation and her career in the police force. She was also struggling with suicidal thoughts.
Further appeals to Cas and the Swiss Federal Supreme Court were launched, while new blood experts were brought in for second opinions on the genetic condition theory.
"My father gave it to me," Pechstein told the BBC last month. "He has the same problem as me. This abnormality is genetic."
The new experts agreed with her, but not everybody was convinced and Pechstein's attempts to overturn her ban throughout 2010 continued to fail.
By this time, Pechstein had almost served her two-year ban and, despite everything, wanted to race again. She returned to the sport in 2011 and won a couple of bronze medals at that year's World Championships. She did this, she claims, with the same blood values as before.
"I am the same athlete, the same person and I train the same way," she said. "So I am not a doper now? This is crazy."
While Pechstein skated on, winning more medals at the 2012 and 2013 World Championships and qualifying for the Sochi Olympics in 2014, her lawyers had opened a new front in the German courts, with a new goal: £3m in damages from the ISU.
Shaky foundations
Which brings us to last month's decision by Munich's higher regional court, which itself was a review of an earlier appeal to a regional court. Pechstein has been nothing if not persistent.
Like every other act in this play, this latest ruling is complex and experts are divided on what it means.
Let us start by saying what it was not. The court has not exonerated Pechstein. Not yet, anyway.
It also did not deny the value of sport having a single body to supply cheap, consistent and speedy decisions on often very technical issues at an international level.
Landmarks in law: How Cas has shaped sport

1981:

IOC President Juan Antonio Samaranch first floats idea of "supreme court of world sport"

1984:

Cas comes into being, under close IOC control, with its first decision coming three years later

1994:

Cas moves to distance itself from the IOC after German showjumper Elmar Gundel appealed against a doping ban in Swiss courts

1996:

Creation of first Cas Ad Hoc Division for Atlanta Olympics to provide decisions on disputes within 24 hours

2002:

Football becomes last big Olympic sport to accept Cas as final appeals body. Football-related disputes now account for a third of caseload

2003:

Cas is confirmed as World Anti-Doping Agency's "last instance tribunal" - notable cases include

Alain Baxter

, Alberto Contador and Tyler Hamilton

2012:

Cas blocks British Olympic Association's lifetime bar on athletes who have served bans longer than six months

2013:

Cas deals with 408 cases, a record, including

Fenerbahce's unsuccessful appeal

against a two-year from Uefa competitions
What it did find, however, was that the position of Cas has been built on shaky foundations, and has set a precedent by allowing Pechstein's case to now be heard in a civil court in Germany.
Its role as final arbiter in disputes is in the small print of most contracts or annual registrations signed by sportsmen and women around the world. It is also enshrined in powerful documents such as the World Anti-Doping Code.
By signing up for elite sport, athletes are entering into arbitration agreements with their governing bodies that are designed to keep sport out of the courts.
No problem with that per se - courts are expensive and often do not agree with each other, which would be a disaster for something as international as sport - but if sport's rules are going to comply with European law, they must meet basic legal standards on independence and transparency. The key issue in the Pechstein ruling is the composition of Cas panels.
On the face of it, it is simple: three legal experts chosen from the approved pool, with each side in the dispute choosing one and the third coming via the organisation's secretariat, the International Council of Arbitration for Sport (Icas).
But who controls Icas? Critics of Cas say there is an institutional bias within the secretariat towards governing bodies.
There are 20 members of Icas, all of them experienced jurists, serving four-year terms. Twelve of them are nominated by the IOC, the national Olympic committees and international federations, and then these 12 select eight more to provide balance.
So if at least 12 of the 20 Icas members have been appointed by governing bodies, just how independent is Cas? For an important court in Europe's most powerful country, the answer is not independent enough.
Days of sport policing itself may be over
Antoine Duval, a researcher at the Dutch-based Asser Institute, described the ruling by Munich's higher regional court as a "dramatic setback" for Cas and sport's ability to police itself.
If Germany's highest civil court supports the ruling - and Duval believes it will - then Cas decisions may not be enforceable in Germany. The implication? Open season for athletes looking for damages against bans they have been given.
If that sounds far-fetched, here is Pechstein's lawyer, Dr Thomas Summerer: "It's an athlete's constitutional right to choose his or her judge.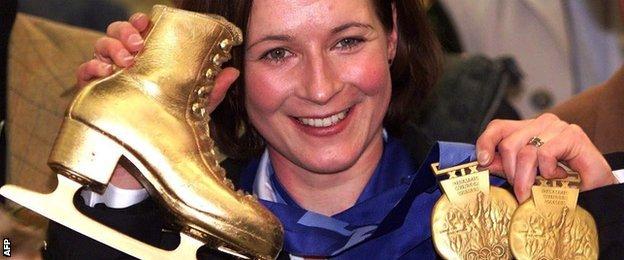 "My client was almost ruined by the wrongful acts of the International Skating Union. A case such as this must be dealt with by a civil court."
The ISU's accountants will not be the only ones gulping at this point.
British-based lawyer Gregory Ioannidis regularly represents athletes at Cas. His latest client is Kostas Baniotis, the Greek high jump champion who failed a drugs test a year ago but blames a contaminated supplement.
The International Association of Athletics Federations is set to rule on this soon, but Ioannidis is already on alert to start an appeal through the Greek courts if Baniotis is given a ban. He does not want to bypass Cas completely - he will appeal against a ban there, too - but Pechstein has doubled his options.
Ian Unsworth QC has also represented athletes at Cas and believes this "potentially very significant" ruling could see "the wall of science" - which often gets thrown up in doping cases at Cas - start to crumble.
Can we fix it?
All is not lost for Cas, though.
Duval points out that the regional court recognised its "function in the global sports system", but wants it to reform.
"Basically you need to have more representatives for clubs and athletes," he said.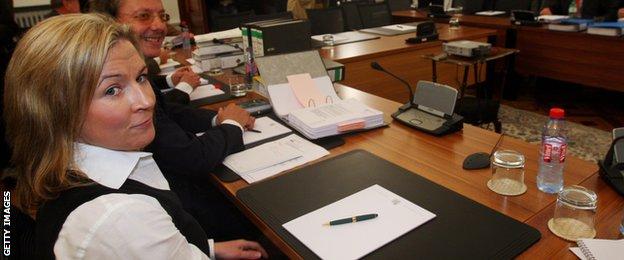 Leading sports lawyer Jonathan Taylor agrees that this "vital infrastructure" can - and must - be saved. He believes this can be achieved by opening up the list of arbitrators so the right experts hear the right cases.
Even Ioannidis and Unsworth, who usually find themselves on the opposite team to Taylor's, acknowledge that they would like Cas to be better, not disappear.
Onside Law's Jamie Singer, who has worked for governing bodies and top athletes, believes Cas is partly a victim of its own success.
"People choose arbitration over going to court because it is cheaper, quicker, more flexible and, in sport, can provide specialist knowledge," he explained.
"Cas has done this well over the years but, as its workload has grown, as sport as an industry has grown, the question is whether it is still cheaper, quicker and more flexible than some national arbitration providers.
"It seems very unlikely that Cas will be usurped in the short term, but cases like Pechstein are a reminder of the issues it may need to address if it is to keep its place as sport's primary arbitration centre."
Pechstein's victory & the future
Bosman may have revolutionised the transfer market, earning millions for countless footballers and their agents, but he did not gain much from his landmark ruling.
He bumped around France's lower leagues for a bit and eventually lost much of his money in a t-shirt business. He hoped players who had benefited from his legal fight would buy one, but he sold only one, to his lawyer's son.
Support for the idea that Pechstein is innocent is growing in Germany - the president of the national Olympic committee publicly backed her at the end of January - but that will not necessarily clear her name.
"This is a really significant moment in sports history," said Pechstein.
"Every athlete can go to a civil court now, they don't have to go just to Cas, they can choose. This is what I fought for - and not just for me, but for all athletes.
"Maybe for my case it's a bit too late, but I am happy I have won. I wrote history in my competitions and now I make history another way, too."