Channel Island sports teams 'must get act together' on travel
Last updated on .From the section Sport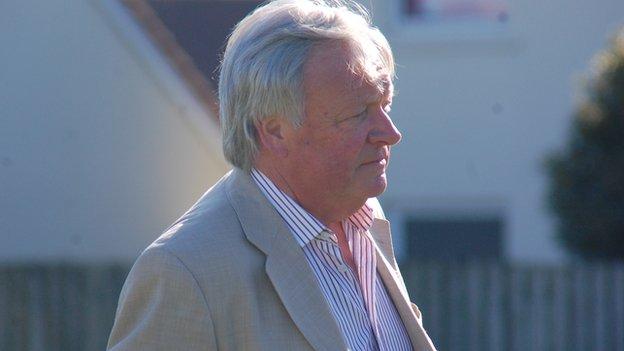 Channel Island sports teams must be better organised when arranging travel for inter-insulars, according to the chairman of Jersey's Sports Council.
Hugh Raymond says sports should get together to organise set weekend fixtures between islands.
This year's cross-country inter-insular was called off because of a lack of affordable transport.
"We've got to get our act together. All other organisations seem to be getting more commercially together," he said.
"Instead of us living in silos, the sports must get together and try and work out some sort of format that we can compete."
A team of up to 45 runners from Jersey Spartans Athletics Club had hoped to fly across to Guernsey for the annual cross-country race on 29 March.
But there were not enough seats on scheduled flights, and the Jersey club claimed a specially-chartered aircraft would cost £142 per passenger, a price they could not afford.
Inter-island travel providers
Condor Ferries:
Provide ferry service linking Jersey and Guernsey with Poole in Dorset and St Malo in France
Blue Islands:
Guernsey-based airline founded in 1999. Operates flights between Jersey and Guernsey as well as to the UK, Switzerland and France.
Aurigny:
Founded in 1968, it was taken over by Guernsey's government in 2003. No longer operates between Jersey and Guernsey. The sole operator between Guernsey and London Gatwick, it also operates flights from the UK to Guernsey.
Two airlines, Aurigny and Blue Islands, operate flights between Jersey, Guernsey and Alderney.
But under a only Blue Islands flies between Jersey and Guernsey, with Aurigny selling tickets for those flights as well.
The alternative of travelling by boat is not feasible as there is only one sailing between the islands on 29 March, so the Jersey team would have to pay for the cost of overnight accommodation before returning home the following day.
"Our biggest problem is sport itself to some degree," Raymond told BBC Radio Jersey.
"If we could get everyone together in one room and say 'four weekends every year we're going to go to Guernsey and Jersey's going to come to us and it's going to be a bumper weekend for sport and that will include all sports'.
"We've not got to that stage and I think we've got to be very careful that we don't use our funding to support the inter-island rivalry, it has to be commercially sound between the sports.
"Their argument (the travel companies) all the time is 'if we knew it was happening and we knew we were going to fill a plane or get 200-300 people on the boat, they they would act'.
"The biggest problem we have is that we're volunteer organisations and if we could be a little bit more professional in the way we deal with these things then there are avenues that we can all work on."