Conor McGregor: UFC fighter ready for world title showdown
By Nat Black-Heaven
BBC Sport
Last updated on .From the section Sport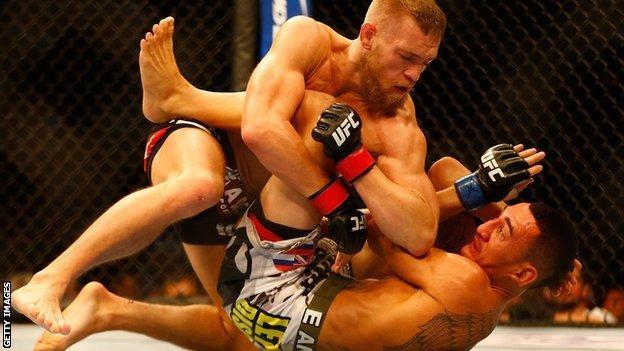 Conor McGregor has fought just five times in the Ultimate Fighting Championship (UFC) but has quickly become one of the most feared sportsmen on the planet.
The mixed martial artist from the Republic of Ireland possesses a devastating knockout punch in both hands.
And if his left or his right doesn't finish an opponent, the man nicknamed 'The Notorious' will carve out a unanimous decision with pin-point precisions and devastating accuracy.
BBC Sport went to meet the 26-year-old from Dublin, who will fight for a world featherweight title against Brazilian champion Jose Aldo in Las Vegas on 11 July.
'My family history is bled on the battlefield'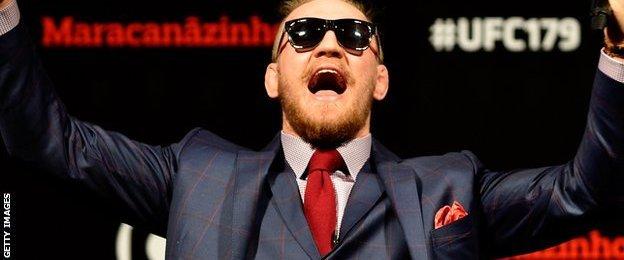 "When you sign to fight me, it is a different animal all together," says the Irishman.
In his relatively short UFC career, he has stopped four of five opponents and has an unblemished 5-0 record, breaking down rivals with a mixture of uppercuts to the head and spinning back-kicks to the mid-section.
Not only is he undefeated in the UFC, he has won a number of performance bonuses for his sheer dominance inside the octagon, which has helped set up a title fight at such an early stage in his career.
McGregor's UFC career

6 April 2013 v Marcus Brimage

Round 1 - TKO

17 August 2013 v Max Holloway

Round 3 - Unanimous decision

19 July 2014 v Diego Brandao

Round 1 - TKO

27 September 2014 v Dustin Poirier

Round 1 - TKO

18 January 2015 v Dennis Siver

Round 2 - TKO
These include a 'knockout of the night' for his victory over American Marcus Brimage (MMA record 7-4) and three 'performances of the night' for his wins over Brazil's Diego Brandao (18-10), American Dustin Poirier (16-4) and Russian-German competitor Dennis Siver (22-10, one no-contest).
The numbers don't lie. The Irishman lands 73% of standing strikes, is 83% successful with takedowns, avoids 69% of his opponent's strikes but, most impressively, has an outstanding 100% takedown defence.
When questioned on his motives for fighting, he mentions that his "family history is bled on the battlefield, royalty is in our blood... it makes complete sense to me that I am doing what I am doing and in the manner that I am doing it".
He adds: "We are not here to take part, we are here to take over."
Gareth A Davies, MMA and boxing correspondent, Daily Telegraph:
"Conor McGregor fights to finish opponents. Finishing rivals is what stokes the fires with fans. Brutal power, decisive finishes, beating rivals into submission, mainly with the left hand. Marcus Brimage, Diego Brandao, Dustin Poirier and Dennis Siver looked like they were being hit by the invisible man. But the Poirier victory was just, well... scary."
The art of combat
Mixed martial arts (MMA) is comprised of many combat sports, some of which feature in the Olympic Games.
McGregor has a background in boxing, taekwondo, karate, capoeira, kickboxing and Brazilian jiu jitsu.
There are many rules and regulations around MMA but the most important thing to know is that you can defeat your opponent by either a judges' decision, referee's technical knockout, knockout, submission or forfeit.
McGregor has mastered the art of victory and now has one man standing between him and a world title - Jose Aldo.
He wants championship gold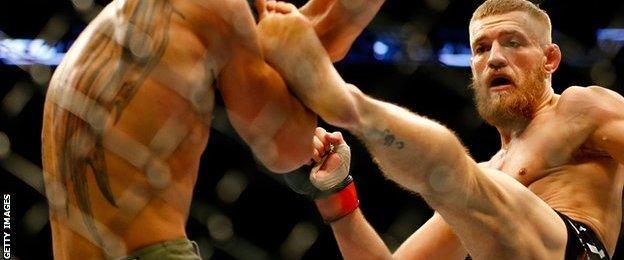 McGregor will challenge 28-year-old Aldo at UFC 189 at the MGM Grand in Las Vegas.
The man from Dublin only sees one outcome.
"I will beat him, I will beat him impressively, I will dominate him and we will move on," he says.
When asked to describe himself, he only had one thing to add: "I am the world champion."
Dana White, president of the UFC, has billed the contest as the "fight of the year".
Breaking box-office records
Slick suits, a sharp swagger and Rolex watches outside of competition; threatening tattoos, precise technique and ruthless aggression inside the octagon.
McGregor is a colourful and controversial figure.
He has recently signed a sponsorship deal with Reebok and is currently working on featuring his own logo - 'the Irish stickman' - on the company's apparel.
When asked about the world tour he participated in to promote his upcoming fight against Aldo, he said: "Make no mistake, the only reason why we are here is because of me. Before me, he only fought in the co-main event. We are here now and we are doing it big."
So big, in fact, that White told a news conference last week that this fight involves "the most money" the UFC has spent promoting a bout in the organisation's 21-year history.
In McGregor's last contest, he headlined against Siver and the fight's peak audience was over 3.1m viewers, decimating previous UFC viewership records for the Fox Sports network.
Worldwide stardom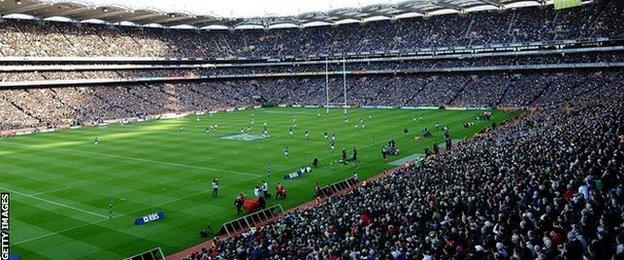 Approximately 71,000 people attempted to purchase tickets to see McGregor and Aldo at the UFC 189 world tour media conference in Dublin; only 3,000 were lucky enough to be successful.
His fight at Dublin's O2 Arena against Diego Brandao in July 2014 sold out to 9,500 screaming fans. His last fight against Siver in Boston in January saw around 4,000 Irish supporters make the trip.
White has recently announced that the UFC plans on hosting an event at Dublin's Croke Park, which has a capacity of 82,300.
McGregor will no doubt be the headliner, especially if he wins the world title in July.
He already has his own TV show, The Notorious, that has aired on RTE television in Ireland and "is heading to the Cannes Film Festival to be sold all over the world".
It's all about the money
Unless he is in the octagon, McGregor is rarely seen without one of his many suits... and for a reason.
"There is definitely an addiction to money that I have," he admits. "I am in the game for the gold and the money."
If McGregor does win the belt, it will certainly open more doors to continue to make more dollars.
"When I do something, I do it full steam ahead," he says. "I see fighters make funny videos about me and stick them on Facebook and get 20 likes. When I make a video, I sell it to Fox and make seven figures. That's the difference."
He has even predicted his upcoming fight will compete favourably with the Floyd Mayweather v Manny Pacquiao world welterweight title boxing clash on 2 May in terms of pay-per-view buys.
Brash yes, but rude too?
There is no denying that McGregor has made a name for himself and has certainly garnered the attention of fans, fighters, sponsors and media alike. But at what expense?
His trash-talk and comical one-liners are as impressive as his fighting abilities, but they have also caused a lot of controversy. Some regard him as rude and disrespectful.
What he said:
On featherweight contender Cole Miller:
"Nobody cares about him. Eighteen fights in the UFC and one time he mentions my name and where does he end up? He ends up in the main event. I want him to thank me."
On featherweight contender Cub Swanson:
"I have no problem with you but when the time comes, I'm going to break you old man."
On the featherweight division:
"I expect everyone in the top 10 of the featherweight division to line up and beg for forgiveness, beg to be pardoned."
What they said:
Featherweight contender Chad Mendes:
"The guy's got to just be the most annoying person to do a media tour with."
Lightweight contender Diego Sanchez:
"The guy is just disrespectful. He doesn't respect any of the other fighters in his division that have paid dues."
Featherweight contender Nicklas Backstrom:
"He talks a lot of trash. I don't have anything bad to say about my opponents, other than that I think I'm better."
After his most recent win against Siver, Arnold Schwarzenegger
tweeted:
"Congrats to the McGregor-nator on terminating another opponent. Can't wait for your world championship fight. I'll be there."
Brazilian footballer Thiago Silva:
"He's got to fall and never get back up."
Fighting role model
McGregor is well aware of his status as a role model and that he is paving the way for young people to take up mixed martial arts.
"The mixed martial arts way of life will give you focus," he says. "If you train for combat sport,s it will give you confidence to attack any area of life.
"Whatever you want to do in your life, martial arts will help you do it."
However, he has one word of warning for anyone that wants to take part in MMA: "Stay out of my division".
Will he become champion?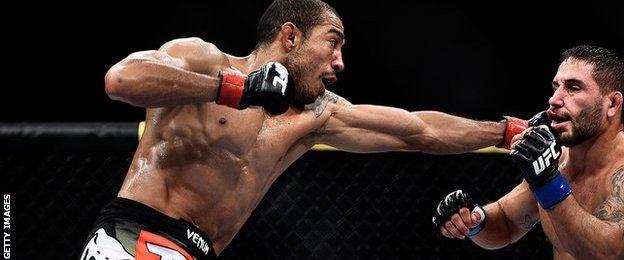 McGregor's next opponent, Aldo, is a force to be reckoned with.
He is ranked as the number two pound-for-pound fighter in the world, as well as the leading featherweight.
He has defended his belt seven times in the UFC and is currently on an 18-fight win streak.
In comparison to McGregor, Aldo lands 80% of standing strikes, is 73% successful with takedowns, avoids 72% of his opponent's strikes and has a takedown defence of 92%.
With both of these men in the prime of their careers, this fight could not have come at a better time.