Island Games 2015: Who will be next to follow these stars?
By Brent Pilnick
BBC Sport
Last updated on .From the section Sport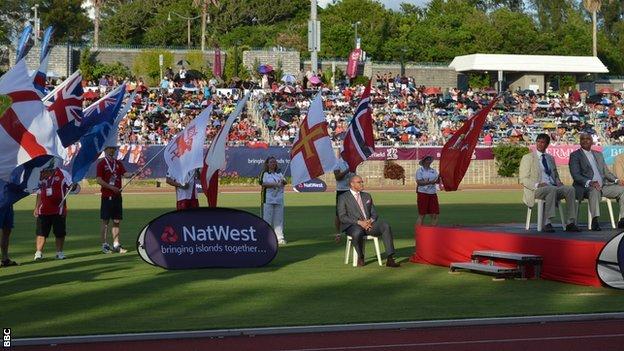 This week 3,000 athletes and officials have descended on Jersey for the biennial Island Games.
For islands such as Guernsey, Shetland, Rhodes and Gibraltar, it is one of the biggest events in their calendar.
And for some talented sportsmen and women, the Games often provides a first taste of international action.
BBC Sport has delved into the archives to discover some of the famous faces who first made a name for themselves at the Island Games.
BBC Radio Jersey will be broadcasting live coverage of the Island Games from 27 June to 3 July at 13:10-13:30 BST and 16:00-22:00 BST.
Mark Cavendish

He has won 25 Tour de France stages, three world titles and raced at two Olympic Games, but Mark Cavendish has also collected three gold medals at the Island Games.
The man who would go on to win the green jersey at the 2011 Tour de France, the year he was also named BBC Sports Personality of the Year, won two team gold medals for the Isle of Man in 2003.
But on an individual level, the Games 12 years ago had been a bit of a disappointment for the ambitious 19-year-old - he was fourth in the time trial, seven seconds off a bronze medal, and did not reach the finish of the road race.
But then came a spectacular climax in the criterium race around the twisty streets of St Peter Port.
"Cavendish showed that determination not to be beaten that everyone has become accustomed to now," recalls Tim Glover from Manx Radio, who has covered every Island Games since 1999.
Going into the final dash for the line, Jersey's Sam Firby looked to be on course for gold, until the Manx Missile produced his now trademark sprint.
"Cav carried on to the finish while the Jersey rider sat up thinking he'd got it, but it was Cav who got it by a fraction of a tyre-width," said Glover.
"That was his first major win and a marker that he was on the way to perhaps being great."
Kelly Sotherton

She is better known as Great Britain's World and Olympic bronze-medal winning heptathlete, but the Isle of Wight's Sotherton took the 1997 Island Games in Jersey by storm.
The 20-year-old came home with six gold medals to show her capabilities as a great all-rounder, breaking the existing Games records in the 100m, 110m hurdles and the long jump - a mark of 5.84m that has still not been bettered.
She also took gold in the high jump, 4x100m and 4x400m relays - and could perhaps have had a seventh gold medal, but did not start the triple jump despite being entered.
Two years later in the Swedish island of Gotland, she retained her 100m and long jump titles. She also won bronze in both relays and was second in the 200m to the next athlete on our list.
Cydonie Mothersill

One of the Cayman Islands' most decorated athletes, Mothersill won 200m bronze at the 2001 World Championships and gold in the 2010 Commonwealth Games.
But in Gotland in 1999, Cayman's first-ever Island Games, she re-wrote the record books by helping her team to gold in the 4x100m and 4x400m relays in record times - the 4x100m record still stands today.
In the 200m final, she faced off against Sotherton, the golden girl from 1997.
Mothersill had cruised to victory by almost three seconds in her heat, setting a record mark of 23.73 which has yet to be beaten.
In the final, all Sotherton would see of Mothersill was the back of her heels as she beat the Isle of Wight's finest by over a second-and-a-half.
It was the last Island Games for the pair, but Sotherton and Mothersill's impact on the record books is still there for all to see.
Pál Joensen

"He could have broken the 1,500m record by over a minute," is how Jersey's swimming coach Nathan Jegou described the Faroe Islands' top swimmer.
In 2001, Jegou became the first swimmer ever at the Island Games to go under 16 minutes for the 1,500m - but the record is now held by Joensen, who clocked 15 mins 28.35 a decade later.
Joensen may have failed to make a final at the 2012 Olympics, but he has won three World Championship silver medals for Denmark, as well as taking three World Junior titles in 2008.
He is due to return to the Island Games in Jersey and hopes to add to his tally 22 gold, 10 silver and and four bronze medals that he won between 2007 and 2011.
Shaune and Brett Fraser

The Cayman Islands' leading swimmers are sure to give Joensen a run for his money in Jersey.
Brett, 25, holds the Island Games 50m and 100m freestyle records, as well as the best mark in the 50m butterfly, while his older brother Shaune, 27, holds the 100m butterfly record.
The pair both made the semi-finals of the 100m freestyle at the 2012 Olympics, while Brett also made the top 16 in the 200m freestyle in London.
"I first saw them at the Island Games in 2003," said Jegou. "They were much younger than we were, but you could just tell they were quality athletes, they had the skill set of senior pros."
Watch out for the 100m freestyle final in Jersey - two years ago Brett just edged out Shaune, with Guernsey's Miles Munro was third. Since then Munro has since gone on to win a Youth Olympic gold medal and is sure to push the brothers close.
Mattias Sunneborn
Gotland's Golden Boy

Long Jump

gold in 1987 and 1993

200m

gold in 1987, 1991 and 1999, silver in 2007

110m and 400m hurdles

golds in 1989

100m

gold in 1987, silver in 1999

400m

silver in 1989 and 2007, bronze in 2011

Triple jump

silver in 2011
Born on the Swedish island of Gotland, Sunneborn was European Indoor long jump champion in 1996 and represented Sweden at the Atlanta and Sydney Olympics, as well as five World Championships.
But his Island Games achievements are equally impressive - he competed in the very first Games in 1987 as a 16-year-old and was still winning medals in the Isle of Wight in 2011 at the age of 40.
His long jump mark of 7.73m set in 1993 still stands as a Games record to this day, but he has actually won more medals for running than jumping.
While he has won two golds in the long jump and a silver in triple jump, he has been on the podium 11 times on the track, including three 200m titles.