Island Games 2015: Jersey top medal table after first day
Last updated on .From the section Sport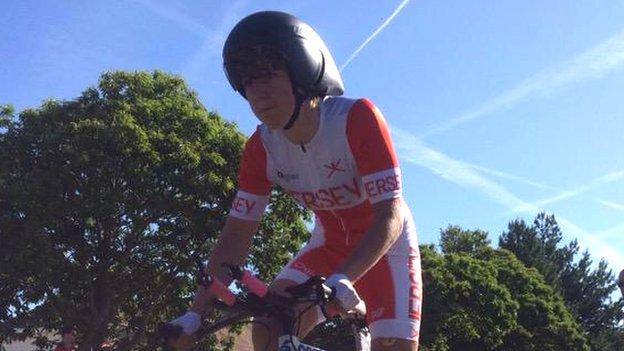 Cyclist Kim Ashton won Jersey's first individual gold medal at the 2015 Island Games in the women's time trial.
Her time of 55:08 was 11 seconds ahead of Liz Holden from the Isle of Man and over two minutes ahead of Shetland's Christine McLean who won bronze.
Ashton also led Jersey's women to team time trial gold alongside Laura Chillingworth and Clare Treharne.
Jersey's men's team of Sam Firby, Stephen Haley, Jack Rebours, Christian Spence and Richard Tanguy took silver.
Ashton won three gold medals at the 2011 Island Games and a silver and a bronze two years ago in Bermuda.
"Looking at that time, whether I came first or last I couldn't have done any more," Ashton told BBC Radio Jersey.
Fox rises to victory
Jersey high-jumper Jason Fox won the island's first athletics gold medal.
His jump of 2.05m was 5cm ahead of Isle of Man's Joshua Hewett, while Saaremaa's Kerkki Leemet took bronze, from Jersey's Simon Phelan on count-back after both athletes jumped 1.90m.
In the women's triple jump Jersey's Kamela Monks took silver with a jump of 11.24m, 0.22m ahead of teammate Roseanna Hill.
Jersey shooters on target

Jersey duo Mark Andrews and Iain Barette won the English Skeet team title by a single point.
Their score of 192 was just ahead of the Isle of Man, with the Isle of Wight coming third.
Jersey's women's ISSF 10m air pistol team of Nicola Holmes and Mary Norman won gold, 31 points ahead of Guernsey's Rebecca Margetts and Nikki Trebert who won silver.
There was also a bronze medal for Guernsey's men in the ISSF 50m team free pistol as Eric De Saumarez and Jacek Hanca missed out on silver by two points.
Cayman tennis player double faults his passport
Meanwhile the number one Cayman Island tennis player, Ilian Nachev will not play in the Island Games after he was turned away at the Cayman airport.
Nachev got to airport but was not allowed to board the plane as his passport was out of date.
He was due to play his first match today against Karl Lindberg of Gotland but was replaced by Kevin Fawcett.
"He called the coach and told him and the coach called me and all the words out of my mouth were beep beep beep.," said Cayman tennis team manager Edmund Junior Hydes,
"We brought a lot of juniors as well so the team is going to be weakened without him."