Island Games 2015: Jersey win more shooting gold medals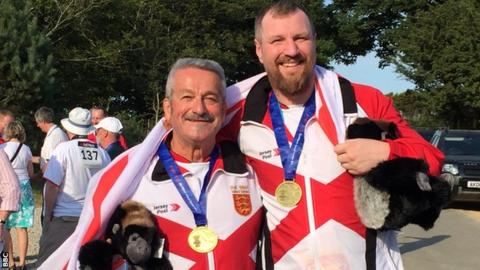 Jersey have won four more Island Games shooting gold medals.
Nicola Holmes took individual 25 sport pistol gold and then teamed up with Mary Norman to beat Guernsey's Rebecca Margetts and Nikki Trebert by 41 points for the team title.
Francis Devonald and Mark Littleton beat Guernsey's James Straughan and Andy Torode in the 1500 PPC.
Iain Barette,Jonathan De La Haye and David Le Rendu won their trap title by two points from the Isle of Wight.
Elsewhere Jersey's 50m small-bore prone rifle team of Sarah Campion and Susan De Gruchy won silver, just under seven points behind the Isle of Man.
Meanwhile Sark won their first medal thanks to Nick Dewe and Stefan Roberts.
The duo took bronze in the team automatic ball trap after winning a shoot-off with the Faroe Islands.
Both teams were level on 160 points, two points off second-placed Cayman Islands and six adrift of gold-medallists Menorca.
Roberts and Dewe represented Guernsey at the 2006 Commonwealth Games.
Mountain bikers miss out on gold
Jersey and Guernsey's women took silver and bronze respectively in the team mountain bike cross-country, with the Western Isles taking gold.
Jersey's Helene Monpetit took individual bronze behind Western Isles' Kerry and Kirsty Macphee.
Guernsey's James Roe won bronze in the men's cross country, while Jersey took men's team silver thanks to riders Rhys Hidrio, Ollie Lowthorpe, James Patterson, Richard Payne and Howard Greenslade.
Archers on target
Guernsey Chantelle Goubert won gold in the women's recurve, beating Isle of Man's Karen Lott by 12 points.
Jersey's Lucy O'Sullivan took silver in the women's compound, eight points ahead of Guernsey's bronze-medallist Gen Witham.
Guernsey's recurve team of team of Chantelle Goubert, Lisa Gray, Jason Le Page, Wayne McKane, Daniel Power and Steve Yates took silver, while the island's compound team of Mikael Appelqvist, Mark Falla, Zoe Gray, Michael Marquand, James Nippers and Gen Witham won bronze.
Guernsey star hurdler pulls out
Guernsey's Channel Island 100m hurdles record-holder Kylie Robilliard is out of the Island Games.
The 27-year-old, who also holds the Island Games 100m record, injured her calf muscle in training and will not compete.
She had been entered in the 100m hurdles, which she won in 2009.
Robilliard, who competed at last summer's Commonwealth Games, has won four gold and one silver medal in the 2005, 2007 and 2009 Island Games.