Island Games 2015: Guernsey win table tennis team gold medal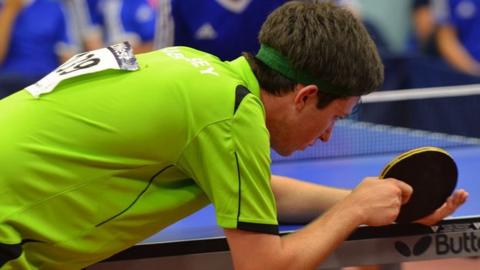 Guernsey have retained their Island Games team table tennis title after beating Gotland 4-2 in Jersey.
Guernsey won gold in 2011, the last time table tennis was included in the sports programme for the Island Games.
Alice Loveridge won her women's singles match and teamed up with Dawn Morgan and Garry Dodd for doubles wins.
Dodd beat Bjorn Axelsson 3-1 in the singles, but lost to Nisse Lundberg, who also beat Alex Robinson 3-0 in the opening men's singles match.
Gotland and Guernsey have shared the table tennis gold medals between them for the past decade.
Gotland took gold in 2009, when Guernsey were third, and beat the Sarnians in the 2007 final.
That victory was revenge for the 2005 final, when Guernsey beat the Swedish island.Island hotshots increase medal tally
Jonathan De La Haye won Jersey's seventh shooting gold medal at the 2015 Island Games.
De La Haye took top spot in the men's individual sport trap, beating Dan Bishop of the Isle of Wight by a single point with Guernsey's Andrew Ashplant getting the bronze.
Sarah Campion and Susan De Gruchy won silver in the women's 100 yards prone rifle team event, finishing 15 points behind eventual winners Isle of Man.
Fellow Jersey shooter Caroline De La Haye won bronze in the women's individual sport trap.
Guernsey's Jacek Hanca has won silver in the 50m free pistol, finishing 13 points off Matthew Reed from the Isle of Wight.
Sark celebrated a second shooting medal as Nick Dewe returned to the podium. Dewe, who won team automatic ball trap bronze on Monday, took silver in the individual event.