Island Games 2015: Jersey win three shooting gold medals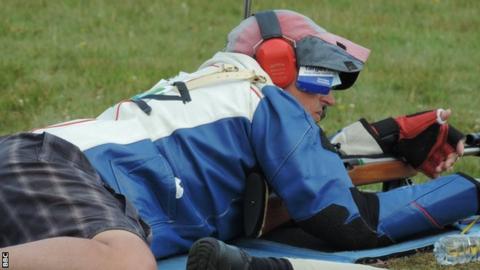 Jersey brothers Andrew and Barry Le Cheminant took gold and silver in the Fullbore Queens shooting, while Fabian Amy and Bruce Horwood took team gold.
The events took place over three days with Andrew beating his sibling to the top of the podium, while Lars-Olof Larsson of Gotland claimed bronze.
Barry made headlines last year when he returned to the Glasgow Commonwealth Games 28 years after he last took part.
Guernsey's Nicholas Branch and Rob Waters were second to Amy and Horwood.
In the 25m rapid fire pistol Jersey's George Winstanley took gold by 10 points from Hitra's Jorgen Olsen.
The gold was Winstanley's second of the games, after being part of the Jersey 25m rapid fire squad that won team gold on Tuesday.
Guernsey's Paul Guillou won the men's 10m air rifle by just 0.4 points from Jersey's David Turner, who took silver.
Holmes wins another gold
Nicola Holmes won her third gold medal of the games as she teamed up with Mary Norman to win the 25m sport pistol team title.
Holmes had already won the individual title, while the duo had previously won the 10m team title.
Holmes and Norman were 45 points ahead of Guernsey's Rebecca Margetts and Nikki Trebert who took silver.
Sarah Campion and Susan De Gruchy won their second silver medal of the games teaming up in the NSRA 100 yard prone rifle team.
The duo took the 50m prone smallbore team silver on Monday.
Jersey have now won 18 shooting medals, making it their most successful sport at the Island Games so far.
Sark win first gold medal
Sark have won their first Island Games gold medal since 2011 as Nick Dewe and Stefan Roberts took gold in the universal team trap.
The pair, who have already won automatic ball trap bronze, beat Menorca by six shots with Guernsey's Darren Burtenshaw and Alex Williams six points further back in third.
It is a third medal for Dewe, who also won silver in the individual automatic ball trap.