Island Games: Menorca pull out of hosting 2019 event
Last updated on .From the section Sport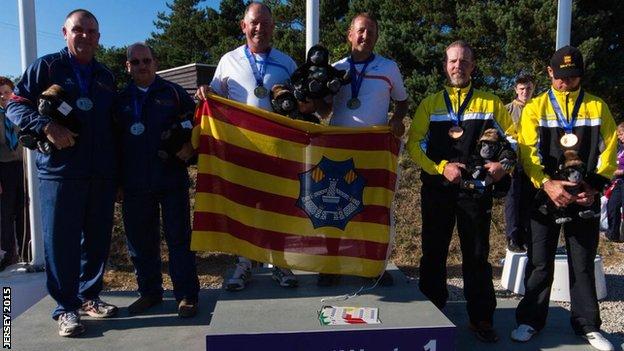 Menorca has officially pulled out of hosting the 2019 Island Games.
The Faroe Islands were originally due to host in 2019, although concerns over facilities meant Menorca was chosen to stage the event.
Guernsey chiefs have said there is a "very minor chance" of them stepping in to host, while Jersey have said it is "completely out of the question."
At the International Island Games Association's (IIGM) AGM last week, representatives were told that Menorca could not stage the 2019 Games because of a change in government.
"You try as hard as you can, and you hope to succeed, but sometimes it just doesn't work out," IIGM chairman Jorgen Pettersson told BBC Sport.
"We'll now negotiate with a few other islands and I think that we'll have a definite candidate in October.
"We don't see it as a huge problem, we see it more as a challenge for those who are interested and wiling to take responsibility for the Games."
Pettersson confirmed that there are "a number" of islands interested in hosting the Games, which will be held on the Swedish island of Gotland in 2017.
Guernsey previously staged the international multi-sports event in 2003 and said last year they will bid to host either the 2023 or 2025 Island Games.
Forthcoming Island Games hosts
2017 - Gotland
2019 - ? (was due to be Menorca)
2021 - ?
"We were asked to do 2019 and we said no - we couldn't jack it up in four years," Brian Allen, chairman of Guernsey's Island Games Association told BBC Sport.
"We've gone to our politicians to build a business plan and we can't see how we'd do it in four years.
"I'd say there's a very, very minor chance of Guernsey hosting in 2019. We weren't pressurised to go for it."
Jersey topped the medal table with 133, 50 of them gold, at their home Games last week.
Despite that success, Phil Austin - who was chairman of the organising committee - does not foresee Jersey staging the event again in the near future.
"I think it's completely out of the question," he told BBC Sport. "It would be too short a timeframe for all kinds of reasons.
"We've had no conversations with the IIGA about it and I'm pretty sure we won't be taking it on.
"I suppose we'd consider it if it was an absolute emergency but my take is that they're talking seriously to an island which are very interested in hosting it."