Island Games 2015: Guernsey 'over the moon' with medal total
Last updated on .From the section Sport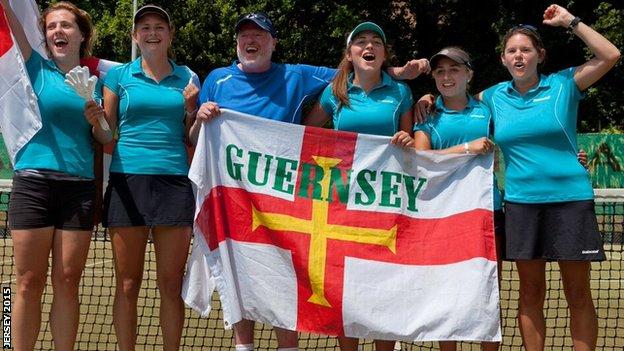 Guernsey's Island Games chairman Brian Allen says he is "over the moon" with their medal total in Jersey.
The Sarnians came third in the medal table, with only the hosts and Isle of Man winning more golds last week.
The team claimed 95 medals in all, a total made up of 28 golds, 25 silvers and 42 bronzes.
"Although it was the largest Island Games team that we've taken it wasn't necessarily the strongest, so I'm over the moon," Allen told BBC Guernsey.
"With the dropout of some of really high profile people, we went with a development team and I would say that third is far higher than we ever thought we'd reach."
Former 100m hurdles gold medallist Kylie Robilliard was one of the athletes to miss out through injury.
Despite the setbacks, Guernsey were able to beat their medal total of 61 - 19 gold, 18 silver and 24 bronze - from the 2013 Games in Bermuda.
"Honestly, when you go to every sport each one becomes a highlight. There's a story behind every location you go to," added Allen.
"We were all there as this family, living together for a week, and you just get energy from each other all the time. They'll be looking to target Gotland (2017 hosts) already."