Island Games: Guernsey to bid to host 2021 event
Last updated on .From the section Sport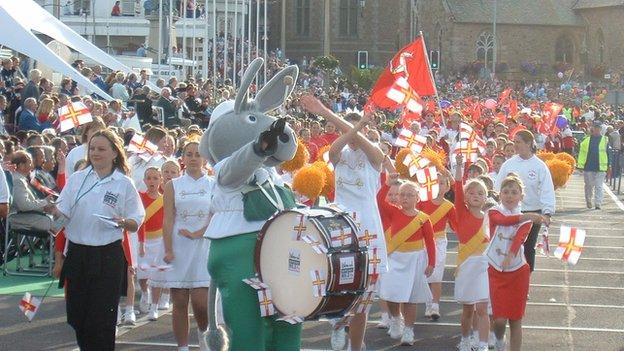 Guernsey are planning a bid to host the 2021 Island Games.
The Channel Island, which staged the event in 1987 and 2003, has prepared a bid document to present to the International Island Games Association.
The Faroe Islands had been lined up as 2021 hosts, but they pulled out earlier this year - a second setback after Menorca opted out of the 2019 event.
Guernsey had indicated last year that they would put in a bid for the 2023 or 2025 Island Games.
If they are successful in being awarded the 2021 event, Guernsey would become the first island to have hosted the Games on three separate occasions.
The Island Games

First held in the Isle of Man in 1985

Over 2,700 athletes competed in the recent Games in Jersey

Either Guernsey or Jersey have topped the medal table at six of the last eight Island Games

World cycling champion Mark Cavendish and Commonwealth Games gold medallists Kelly Sotherton and Cydonie Mothersill

have all competed at the Island Games
Jon Marley from Guernsey's Island Games Association says the event would cost nowhere near the £1.9m that Jersey spent on this year's event.
"We need to build up a business plan including costings and try to bring some private financing in for this project," he told BBC Radio Guernsey.
"Whatever the shortfall may be, we then need to approach Guernsey's government to take up the shortfall, but hopefully we can do a lot of it with private investment.
"The capital investment on venues will not be that great, so hopefully we won't be spending anywhere near as much as Jersey did when they hosted."
The Island Games sees small islands from around the world compete in a range of sports every two years.
Jersey hosted the recent Island Games, which finished last month, with 2,700 athletes from 24 islands competing in 14 sports.
The Swedish island of Gotland will host the 2017 Games.
"When we have our meetings and discussions all the other islands have all said that Guernsey 2003 was the best-organised games ever," added Marley.
"If we can replicate that then we've done a pretty good job."