Periods in sport: New research on the menstrual cycle effect
Last updated on .From the section Sport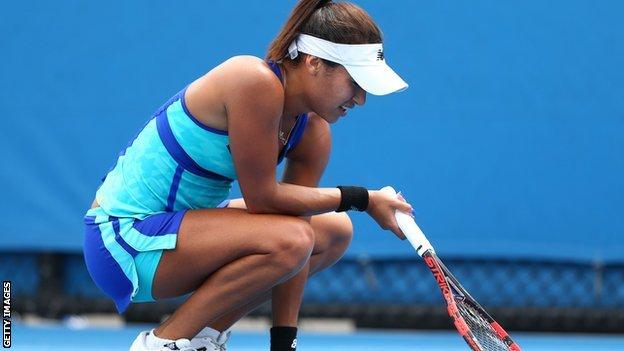 A research group is hoping to increase awareness of the "taboo" subject of period problems in sport.
Several sportswomen have raised the issue, including tennis player Heather Watson who blamed "girl things" on her exit from the 2015 Australian Open.
Dr Richard Burden, senior physiologist at the English Institute of Sport, told the BBC in January that menstrual cycle research in sport was "limited".
The new study has been conducted by two London universities.
The Female Athlete Health Group - a collaborative project between St Mary's University and University College London - worked on two surveys, including one of London Marathon competitors.
Of the 1,862 women surveyed, including 90 who were considered elite level, 41.7% said their menstrual cycle affected their performance.
Nearly 44% met the criteria for heavy menstrual bleeding, but only 22.3% had sought help for period problems.
What the elite athletes say

Former women's marathon record holder

Paula Radcliffe

"I tried to put it out of my head and not let it become an issue. It's one of those things that can become a bigger issue if you let it."

Former British tennis number one

Annabel Croft

"Women dealing with these issues at any time is hard enough, but actually trying to go out there and trying to play top-level sport at one of the most crucial times in the calendar year. It is just really unlucky.

I think women do suffer in silence on this subject. It has always been a taboo subject."

Great Britain's women's hockey player

Hannah Macleod

"We actually had our menstrual cycles tracked by our coach for a year prior to the Olympics. It was to get an idea of what stage we'd be at, during our cycles for the games."
PhD student Georgie Bruinvels, who is leading the study, told BBC Sport: "We feel like there are many unanswered questions when it comes to periods in sport.
"As a female athlete myself, I can see how much it impacts. So many elite coaches are male and it's hard for them to understand.
"It's this big taboo. I found that awareness is so poor and people don't know anything about it.
"By doing this research, we hope to raise more awareness and to encourage further examination of the subject."
Bruinvels is using crowdfunding to aid the next stage of her research, which will focus on heavy menstrual bleeding and the possible increase of iron deficiency.