Little League Softball World Series team accused of deliberately losing
Last updated on .From the section Sport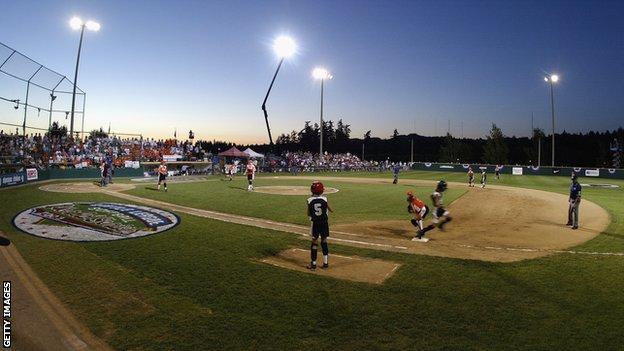 There can be few less likely targets for allegations of match-fixing than 12-year-old softball players.
But a team from Washington have been accused of deliberately losing to prevent their rivals from reaching the semi-finals at the Little League Softball World Series in Portland, USA.
The game's governing body stepped in, ordering a play-off between the two teams - South Snohomish and Central Iowa.
South Snohomish said they did not lose deliberately, but they were knocked out as Central Iowa beat them 3-2 to reach the semi-finals.
The furore surrounded South Snohomish's match with Rowan Little League, from North Carolina, on Monday.
South Snohomish, who were unbeaten after three matches and already assured of a place in the next round, lost 8-0.
That was bad news for Central Iowa, who would have reached the semi-finals had South Snohomish either won or scored three runs in defeat.
They were eliminated despite finishing in a three-way tie in their pool with South Snohomish and Rowan.
When Little League Softball World Series officials did not overturn the result, Central Iowa appealed to Little League International, which ordered the play-off.
In a statement, it said it had received "credible reports" that teams had not played "with the effort and spirit appropriate for any Little League game".
Speaking to Iowa TV station WHO-DT, Central Iowa coach Charlie Husak claimed it was "evident" South Snohomish "were not striving to win".
He said they kept their best players on the bench and instead fielded their reserves.
South Snohomish Little League president Jeff Taylor told The Everett Herald coach Fred Miller chose to rest players who had "been playing for three months".
He said: "It wasn't a game that we absolutely had to win and the Central Iowa team took exception because the outcome was that they got knocked out.
"We made a lot of good plays. We didn't go up there trying to strike out, like they're trying to imply. To try to downplay the accomplishments of these girls is unfair."