#mysportingfail: When sport goes wrong, horribly wrong
Last updated on .From the section Sport
Faceplanted in a race? Celebrated prematurely? Thrown your football shirt into the crowd and had to claim it back for extra-time?
The sporting annals are filled with athletes who succumbed to a moment of heartbreaking failure in their quest for glory.
In the World Athletics Championships this week alone, Panama's Rolanda Bell took a tumble into a water jump in the women's 3,000m steeplechase while American Molly Huddle lost out on a medal after celebrating too early.
It is a fate that on some scale even the most amateurish of sportsmen and sportswomen can relate to, that moment of utter sporting failure.
So we asked our BBC Sportsday audience to use the hashtag #mysportingfail to let us know when things have gone wrong in their own sporting 'career', the mishaps, the dramas or the plain bizarre.
The injuries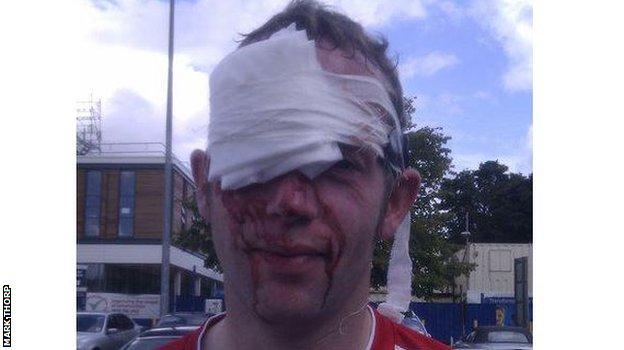 Nigel Man: "My debut rugby match, I ran through their entire team & failed to score. I was told I ran into the post - I don't remember…"
Dan Warren: "Snapped Achilles during basketball. Why a fail? I was 38 and coaching 10-year-old kids at the time."
Robert Webb: "Off the 18th tee at my local golf club, the ball hit the first tree and came back and hit me in the belly."
Nicholas Wright: "Rugby wing for school team, ball in hand to score against enemy team. Dive for line. Tackled onto flag. Fail. Arm broken."
Michael West: "Headbutted a goalpost about 10 minutes into my debut for a new club. Was already 7-1 up and in A&E an hour later."
Bradley: "On my debut I was put in defence, normally midfielder. Five minutes in, corner. I mistimed jump, knocked my own keeper out."
Frank: "Charity mile and tearing all the way through a ligament in my foot within the first 10 metres."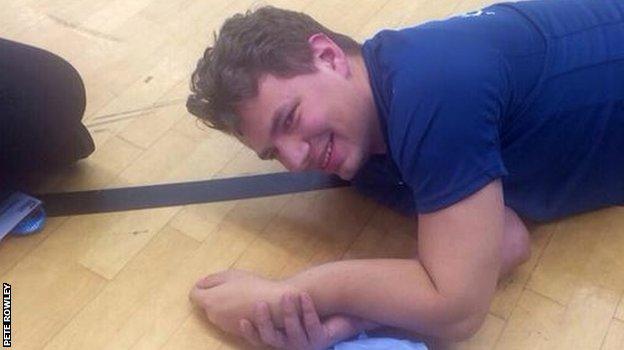 The nearly men
James Thacker: "U12 football, managed to dribble round the whole team, round the keeper and just tapped it. Celebrated, but was cleared away."
C-Moon 0073: "U12 breaststroke final, 1968. Three metres clear, went for the wall, missed, didn't even get third - I'm short sighted!"
TheFilmChap: "Through on goal, only goalkeeper to beat, slipped and fell in the mud. Game had to be stopped as opposition and my team were laughing."

Chris Watts: "Burst through two tackles in a rugby match, on the try line, spun round reached out, placed the ball over the dead ball line."
Dan Clark: "From kick-off straight to opposing keeper. Followed ball whole way, keeper dropped at my feet, can't miss. WIDE!"
Kanjo: "While playing sevens, ran with the ball for half the field only to look back at the last moment and hit the post head on."
Broken dreams
Edd Green: "One off the lead in a golf tournament, went out that night, woke up late, got lost on way to event. Missed the tee-off."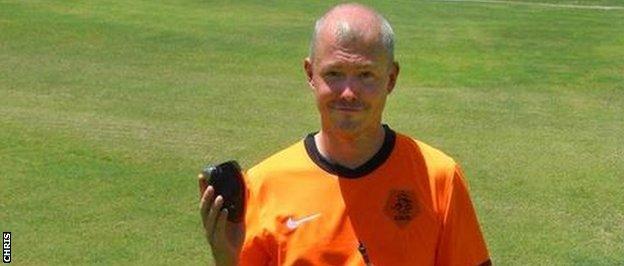 Can I have my shirt back?
And spare a thought for Ipswich Town's Larsen Toure during his team's League Cup win over Doncaster Rovers on Tuesday night.
The French winger threw his shirt into the away end after he match finished 1-1 in normal time, not realising there was another 30 minutes of extra-time to go.
"He needs help", joked manager Mick McCarthy. "We'll have to get him some treatment or something. I think some of the fans were telling him actually. As much as they wanted his shirt, I think they realised he needed it for another 30 minutes."