Island Games: Gibraltar 2019 decision sparks varied reaction
By Brent Pilnick
BBC Sport
Last updated on .From the section Sport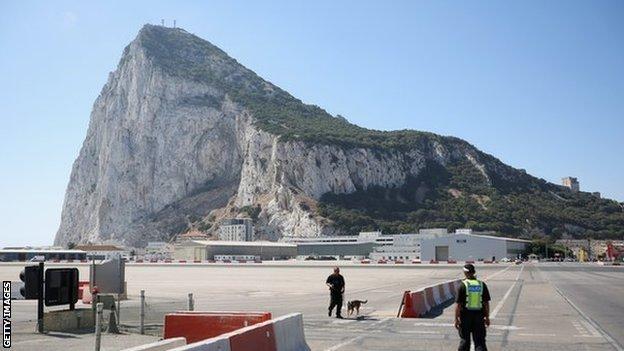 Gibraltar's decision to drop football, cycling, volleyball and golf from the 2019 Island Games and replace them with squash, judo and tenpin bowling has met with a mixed reaction.
The British Overseas Territory stepped in earlier this year to host the event after Menorca pulled out.
There are 18 sports that can be played at the Island Games, with hosts having to stage between 12 and 14.
It will be the first time volleyball, cycling and football have not featured.
"We're delighted that Gibraltar has come up with a bid, because there was a worry that the Games would not take place," Guernsey Island Games Association chairman Brian Allen said.
"It's disappointing for some of the sports, but every year there are at least four sports that have this situation where they are told their sport won't be included.
"The fact that the footballers won't be there will have quite an effect on things, but Guernsey went to Bermuda in 2013 and our footballers didn't go and it made no difference.
"They'll be disappointed, but they will then look forward to the Games after which will be in Guernsey."
A separate football event?

Football has long been a big draw at the Island Games, but with space limited and the hosts playing as an international nation, Gibraltar has dropped it for the first time.
"I'm very disappointed," Simon Petulla, the manager of Jersey's 2015 gold medal-winning women's team told BBC Sport.
"With everything that's been going on in women's football it's a backwards step.
"Maybe someone can organise a tournament just for football. It doesn't have to happen at the same time as the Island Games, but in the same year.
"If you look how big the football tournament was in Jersey, you'd get the crowds and you'd get a sponsor. I think when you take football out you lose a bit of quality from the Games."
It is a move backed by the Steve Sharman, who led Guernsey's men to gold in Jersey this summer.
"As a one-off, if a place isn't going to put on football, why not host a football event prior or just after in another island," he told BBC Sport.
"But I would always want football to be a part of the Island Games.
"A big part of being at the Island Games is seeing the other sports and being part of a bigger team.
"There's very few opportunities to be part of that, to be part of something else and watch our other sports people, so it's really important to us."
But Sharman says Gibraltar's move to international football may have had something to do with the decision:
"Gibraltar have designs on getting into Fifa, they have significant support with their membership of Uefa and have major plans for facilities there.
"Maybe they feel the Island Games doesn't fit their profile any more.
"But if you spoke my players the Island Games is a major event in their calendar."
Squash's delight

But one sport's loss is another's gain. Squash was first included in the Island Games in 2005 and was also played in 2011 and 2013.
"I can understand the disappointment for the sports that were left out in 2019, having been left out in 2015," Jersey's director of squash Nick Taylor told BBC Radio Jersey.
"If I'm good enough, I'll play, but if I could put myself in four or five of my juniors' shoes I'd be thinking 'what an opportunity," said the former professional and 2011 and 2013 men's singles gold-medallist
"It's something we'll be using for inspiring the youngsters. Four years sounds a long way away, but it's not, it'll be on us in no time, so we've got to make sure these guys step up to the plate."
Death sentence for smaller sports?
But for some of the less-played sports, being dropped from the Island Games can cause real problems as their participants have very little to aim for - judo clubs in many of the participating islands were badly hit after the sport was dropped in 1995.
That is the fear now for volleyball, especially if they are also left out of the 2021 Island Games in Guernsey.

"What the Island Games does for us as a small local sport is it gives us a focus," Jersey Volleyball Association president Paul Adamson told BBC Sport.
"We know that in theory every two years we will be training towards something and it gives you a goal to aim for.
"It's the pinnacle of a local sports player's career to participate in the Island Games.
"To miss two games in-a-row would kill the interest in the Island Games from the volleyball fraternity and the top teams like Saaremaa, Aland and the Faroe islands might say they'll do something else."
Chance to take stock?
But perhaps it is time for the Island Games to clip its wings? In Jersey there were over 2,700 athletes and the event cost around £2m to stage.
Only a few of the larger islands have the infrastructure to actually host an event of that size.

Gibraltar is tiny compared to some of the other hosts, and the political situation with Spain means sports cannot be held on the Spanish mainland.
"The International Island Games Association for quite a few years now have wanted to try and involve the smaller islands in the bidding process," said Jersey Island Games Association head Steve Jacobs.
"It's been so successful that only nine or 10 islands out of the 24 can put it on.
"There's still going to be a big presence in Gibraltar, but the logistics of the island, it's only two and a half square miles, have to come into it."