Guernsey surfer Johnny Wallbridge claims British surf title
Last updated on .From the section Sport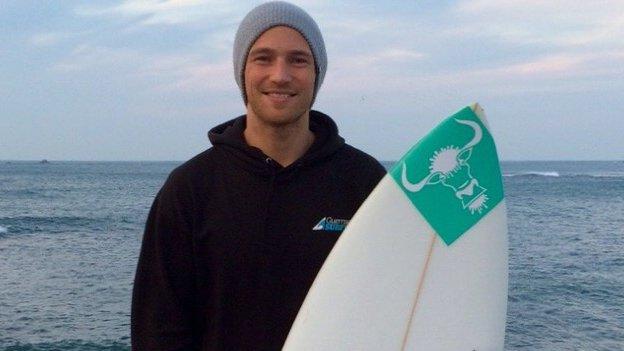 Guernsey surfer Johnny Wallbridge has spoken of his surprise after he won the senior title at the British Surf Championships.
The 31-year-old had never previously surfed in the United Kingdom and was attending the competition to support the junior surfers from the island.
"My main aim for this trip was to support our two 10-year-old surfers," he told BBC Radio Guernsey.
"I just happened to enter, so it was a bonus to come away with a win."
He added: "I felt a bit confident because I knew a few of the guys in my category, but it is the kind of thing where in your wildest dreams you dream of winning a British title. It was a surprise."
The competition took place over 24 and 25 October with surfers judged on a 20-minute heat.
A panel of four judges scored individuals on a number of manoeuvres, turns, the length of ride and how extreme their attempts are, with the final score being made up of their best two scores.
"With competition surfing a lot of luck is involved," Wallbridge added.
"When everyone is on such a level playing field, luck plays a massive part. Sometimes it's down to the wave you get."